LIV Reopens This Weekend With Massive LED Spider, Travis Scott, Skrillex
By Angel Melendez | Miami New Times
September 22, 2017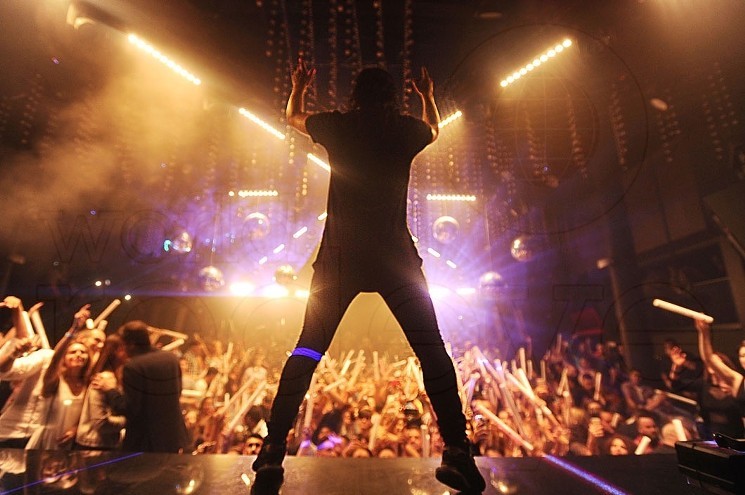 In less than a decade, Miami Beach's LIV Nightclub at the Fontainebleau has become a world-renowned brand. Already an iconic event space readily associated with high-quality, upscale nightlife reminiscent of Ibiza or Studio 54, LIV is further cementing its foothold in the annals of next-level partying.
After a two-month hiatus, LIV is ready to reopen to show off a $10 million renovation that promises to reestablish the club's position at the top of the nightlife food chain.
"We live in a time of now," says Mo Garcia, vice president of operations for MMG Nightlife, which runs LIV. "Everything moves so fast. We knew we had to do something."
That "something" is a massive LED beast he lovingly calls "the Spider." Designed by Steve Lieberman — owner of SJ Lighting, the EDM lighting mastermind behind all the pretty colors at Ultra and Electric Daisy Carnival — the Spider is a colossal, seven-legged beast of several dozen staggered LED screens that extend across the breadth of the ceiling.
The feet are connected to towering LED columns that border the main dance floor, enveloping the club in one continuous vision. At the push of a button, the room can sparkle or sizzle; wave after wave of flames or rainbow spectrums flow to and fro.
From the cascading double staircase that hugs the DJ booth and main stage, to the back wall that houses additional VIP seating and about 17 circular screens further manipulated by LED projectors, there is always something to see.
The Spider will pulsate dozens of feet above the heads of guests, creating an effect that makes each ring, each layer, and each screen appear to float and operate independently. Sober, it is impressive. Couple it with booze and some other treats, and it could be a total mindfuck of the best kind.
In in its nine-year existence, LIV had never closed before. For the renovations, the club shut down for almost nine weeks. At first glance, the Spider, which cost $3 million, along with the rest of the makeover, seems well worth the risk of temporarily closing a booming business. It's like outfitting a classic car with a sexy, powerful new engine.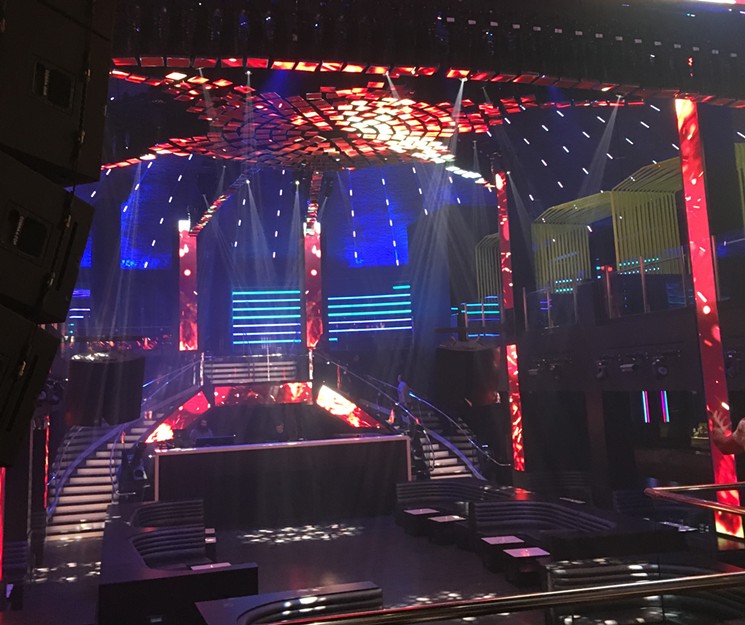 "We know how the business changes," Garcia says, "and we know our competition lies in Las Vegas and in New York. We knew we had to step it up, and we just couldn't sit and wait. We knew we had to stay ahead of the curve, which is everything in this business.
"We want that 'wow' factor," he continues. "We think this gives us that. No matter what we changed, we needed that explosion. The dome of LIV is its signature. You take a picture of LIV, you catch the dome, you know you're inside of LIV."
Although Garcia calls this foray into a technology-driven experience "uncharted territory" for a nightclub, he's certainly correct about the increased "wow" factor. Every inch of the club is now a jaw-dropping, visual feast.
"We want the experience to be 360," Garcia says. They've certainly achieved that goal.
LIV is set to unveil its new pride and joy Friday during what's being called the Sneak Peek Weekend, featuring rapper Travis Scott Friday night, Skrillex Saturday night, and the traditional LIV on Sunday with resident DJs.
Essentially, this grand reopening kicks off a months-long celebration of the reinvigorated space that will see the likes of Jermaine Dupri, Erick Morillo, Dash Berlin, Lil Jon, and Black Coffee perform beneath the new light spectacle.
LIV. 4441 Collins Ave., Miami Beach; 305-674-4680; livnightclub.com. 11 p.m. to 5 a.m. Friday through Sunday.