Meet The Man Behind a Million Lights: An Exclusive Interview with Steve Lieberman
By Joe Cutcliffe | Man Of Many
November 14, 2017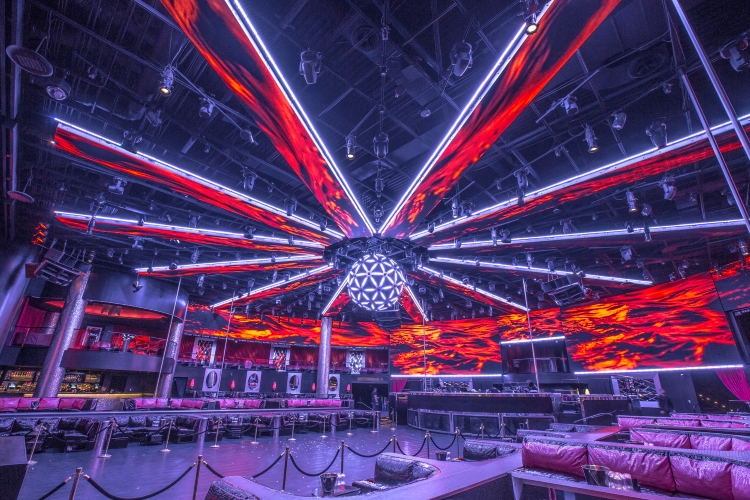 Ask any raver and they'll tell you: it's the light show that makes it or breaks it. While the lineup of DJs, availability of vodka and quality of, er, "extra-curricular party favours" might be at the forefront of any club-goer or festival attendee's mind, it's the complicated, technically demanding and oft-overlooked display of lights that sets the vast difference between a good club and a great one; a great festival and an epic one.
"It's like this whole recipe of all these different disciplines interacting together like a very synergistic environment. It all needs to flow. The audience might not necessarily notice because it just feels appropriate. They'll certainly notice when it's not appropriate."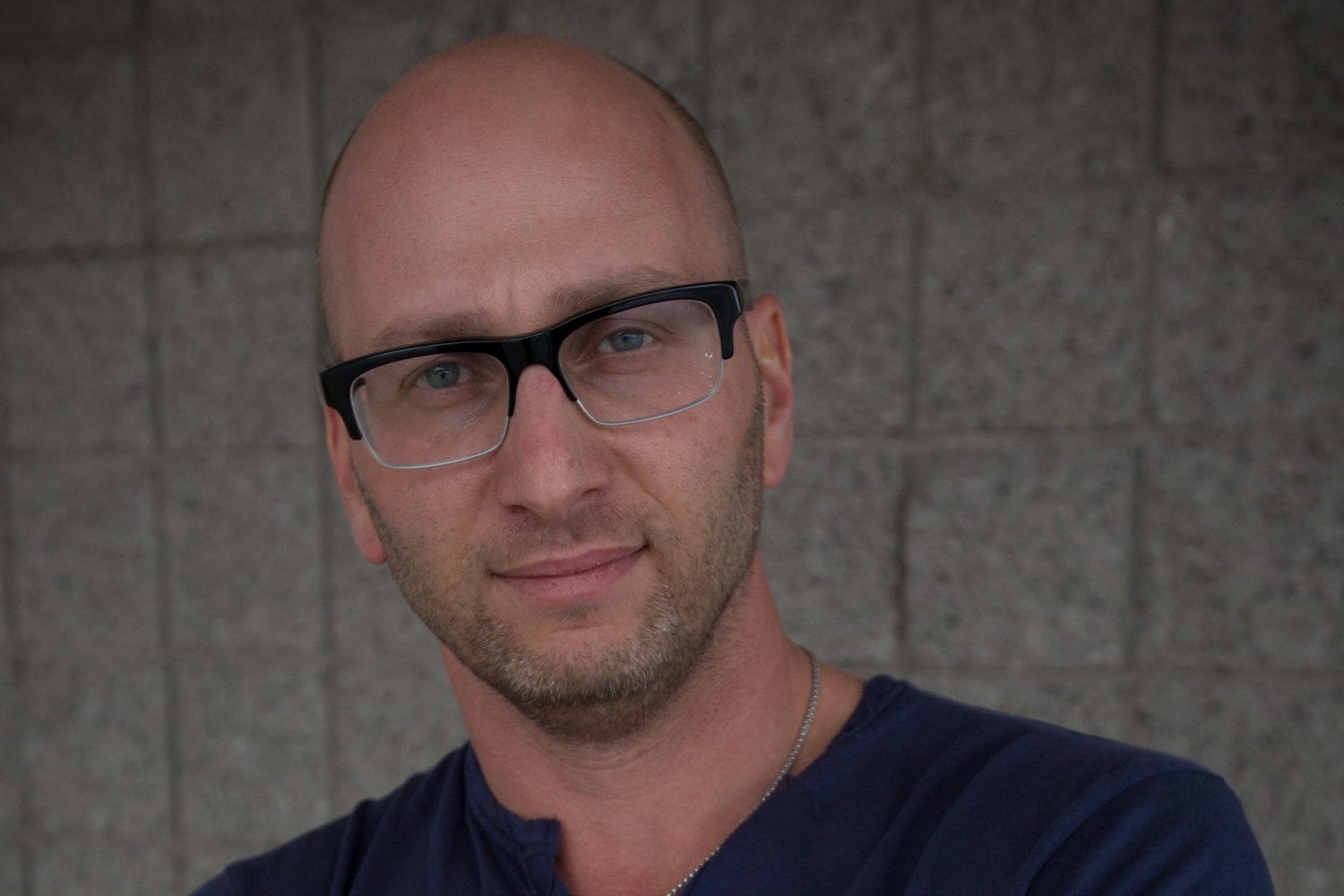 I'm talking to Steve Lieberman over the phone from LA, whose role in the nightclub and festival scene can't quite be defined by title or discipline, as he helped to pioneer what is today the norm, and set the standard by which lighting technicians and designers now operate. Steve's start in the world of lighting design came almost by mistake, when he was a kid picking up glasses in New York's not-yet burgeoning club scene, though it was when he started to steal electricity to get the lights working at underground parties that a viable career started to look like it could be a reality.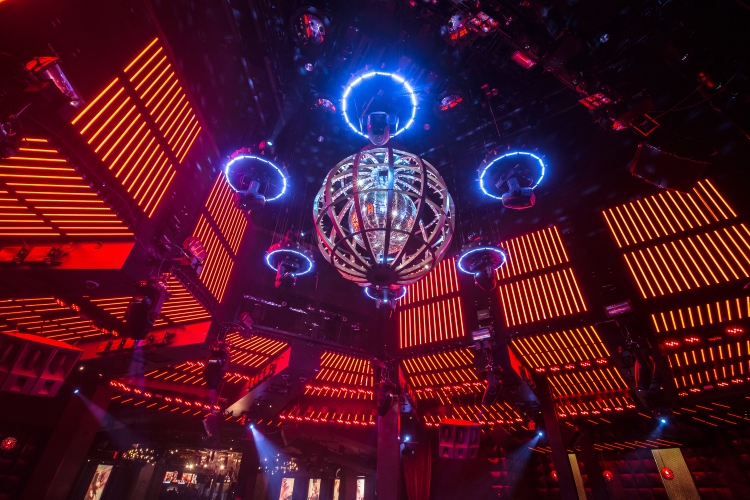 "My first foray into it was 1986, 1987. I was working at night clubs in New York, not doing anything lighting-related. Just kind of sweeping, cleaning glass, helping out the DJ. Just being in the club. Then around 1990 is when the rave scene hit the East Coast. Back then it was still pretty much a very underground kind of community. It was nothing compared to what the scene is now.
"You might have seen six to eight moving lights and telebeams and some controls; a few strobes in a broken down warehouse somewhere in a field. Not a legitimate Ticketmaster buy-a -ticket-and-go-to-a-show kind of event. The people that I hooked up with back then just going to the shows just happened to be the production people. It was kind of fortuitous for me but I went in and I would help them set up the lights and plug them in.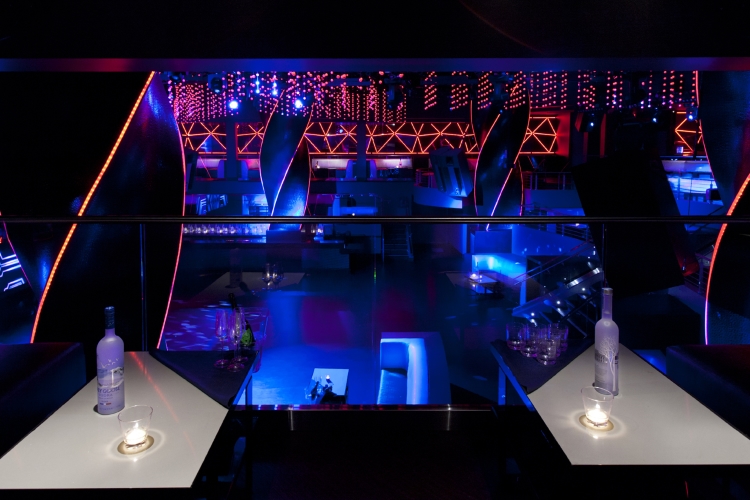 "When we'd go into a warehouse that had no electricity we would do whatever it took to get electricity. Sometimes that meant going to the box outside on the telephone pole, and basically we had all sorts of electrical "hardware". We would make electricity available so that we could get things turned on.
"Even years later when I started doing more legitimate events I always kept a box full of breakers for different breaker panels so if we went into a location and they didn't provide electricity, I would open up their panel and basically pull some of their breakers out and put my own breaker in and wire it up, and you'd get going.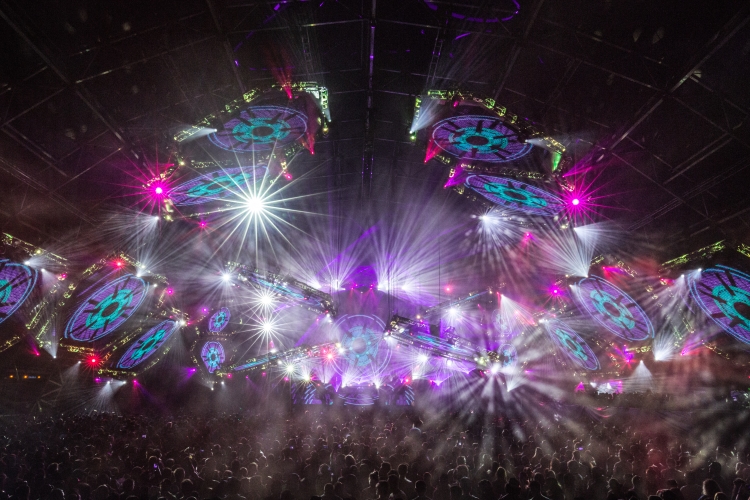 It wasn't long before Steve launched his own company, SJ Lighting, on the back of a desire to not work for somebody else, and an understanding that he'd always be better off doing his own thing. His company now looks after up to 100 stages a year, and boasts some of the most technically advanced and celebrated nightclubs in the world as its clients.
"I worked for somebody right out of college and didn't even make it a year before I decided that I needed to just be doing my own thing and have my own company. By the end of '95, I already started my own business. The rave thing was still pretty new. In the United States, at least, or at least on the East Coast.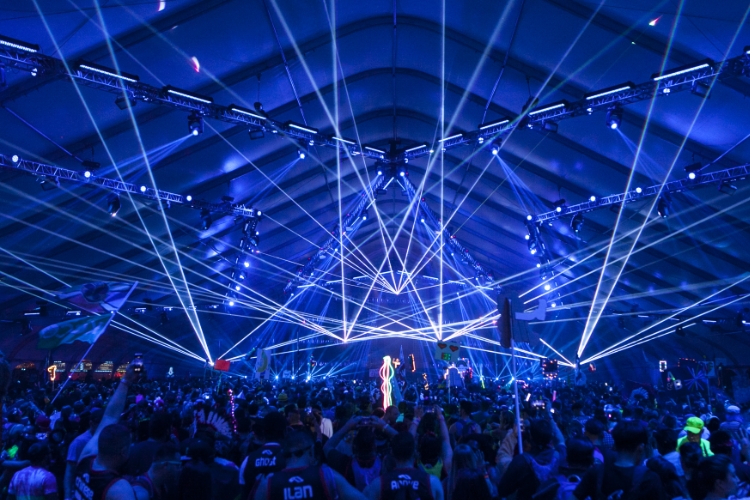 "It was only four to five years of it really starting to develop. It was still smaller shows, smaller events, underground parties, nothing permanent – or you'd go out into the middle of the woods. It was still very much those kinds of shows or they were just special promoted events in a night club. There was no 100,000-audience shows going on in the United States back then.
"We were developing and figuring it out on our own really without any guidance from any professional production people because even back then when I was in the lighting business at a young age, the people who were doing TV work or rock and roll work or industrials and those kind of shows, they really kind of looked down upon us and just really didn't consider us part of their professional industry; we were just misfits, criminals scurrying around the gutter.
"I tell my wife – I make the joke that now obviously we're a legitimate business, successful, and have been doing this for 20 plus years, but it's always been capitalising on bad decisions."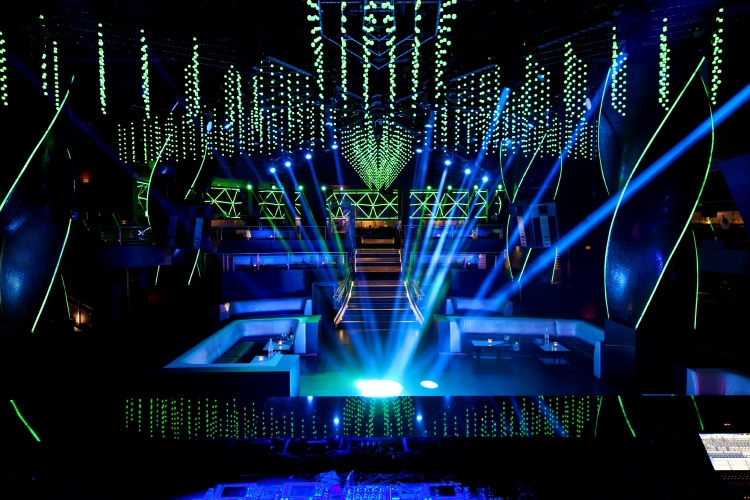 With 25 years of experience under his belt, he's still quick to acknowledge humans' natural ability to only focus on the negative, and why his job, while not the most obvious, is one of the most important ingredients in a very delicate mix when making a show truly unforgettable.
"Everything feels good until you see four lamps that are just off or strobing by accident and you go, "Oh, shit. Let's get that sorted out real quick." It's just appropriate. People only notice when something is wrong. It's like you can do 10 math problems, you can go: "Four times three is 12. Five times five is 25. Six times four is 23. Seven times three is 21." Then they'll go: "Wait, six times four is not 23. It's 24." You can say: "Right, but what about the other five that I just got correct? People will always forget those. All they'll do is focus on the negative."
Perhaps its this knowledge, this personal understanding of how people perceive the holistic, sensory experience that is a nightclub or festival that propelled Steve to the top of his industry so quickly when he was younger, but there's a definite element of trial-and-error on his resume that delivered some valuable lessons along the way.
"Almost 20 years ago, I was doing a show in Palm Springs and my vendor didn't deliver everything I needed to get the job done. We were literally building the show in the morning and the show was that night. They sent me finger cable with no way to tie in, just raw tails. I had no way of getting anything. I had to use the old Tyco clips, which are totally illegal – they're like alligator clips that I had to snap onto these hot plates that are live, I couldn't shut it down.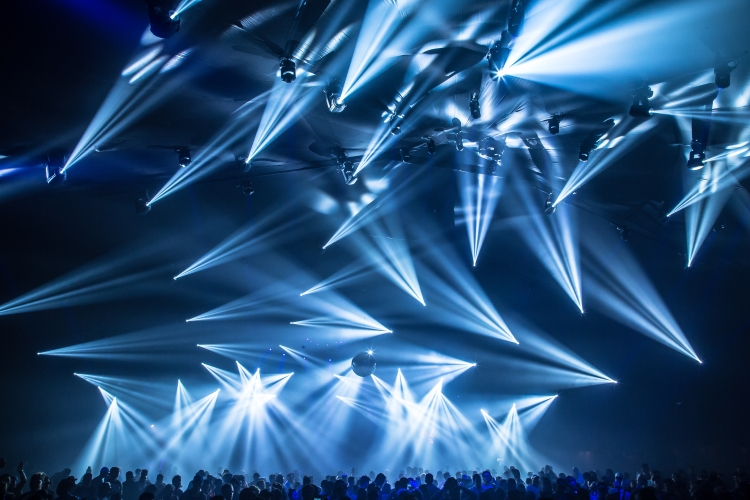 "Then they sent me cable extensions – they're called break-outs – with the wrong ends on them. I was literally pulling connectors off of fixtures and shoving raw wire into connectors and taping it down. This show dropped me to my knees. I'll never forget. I remember calling my wife and I was literally in tears. I was like: "Babe, this show is literally going to f*cking kill me."
,p>"I eventually got most of it working for the gig but they held doors for two hours for me to finish getting my stuff going. The client wasn't real pleased, neither was I. I'm pretty sure I didn't get the last check on that one. It was a good learning lesson."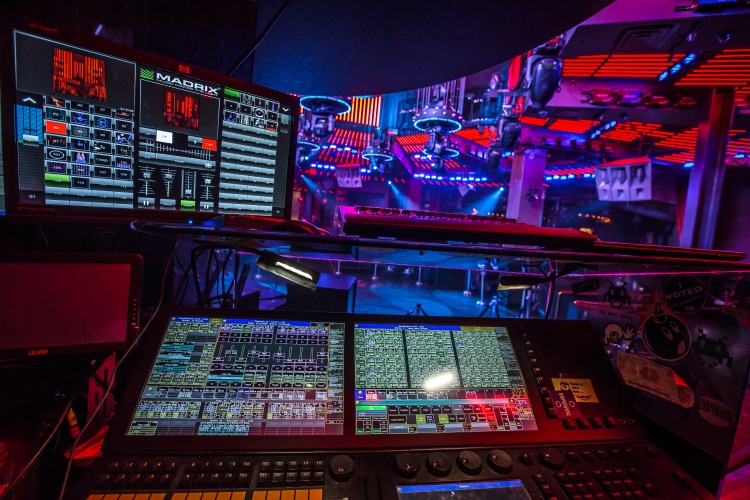 Stories like this are few and far between for Steve, however, as his list of happy clients is one of the most exhaustive in the industry. When prodded to reveal some of the names who've complimented him, his thick semi-New York / semi-Californian accent softens into humble tones – the sign of a true professional, but not without revealing one great thumbs-up from one of his favourites.
"We were doing Coachella this past year; we do two weekends at Coachella. It's the same lineup weekend one as it is weekend two. Weekend one, I'm running lights for Solomun because we designed the uni tent at Coachella where he's playing. We're doing a fantastic job. The tour manager went to my buddy, who is the curator of the stage, and was like: "That was the best light show I've ever seen in my life. Unbelievable." He came over and told me and he was like, "Hey, Solomun's team is f*cking blown away. Amazing." I'm like: "All right. Cool. No problem. Glad they enjoyed it."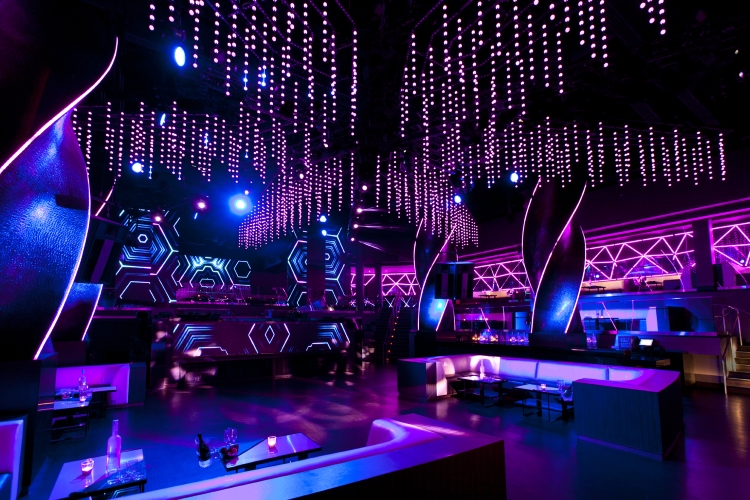 The next weekend we come back in, Solomun comes up. His tour manager comes over to me he's like: "You were doing lights last week?" I said: "Yeah." He goes: "That was the best lights show I've ever seen in my life and I'm German so we don't say that to people."
Solomun's a big deal, and a compliment like that comes with veritable bragging rights, but in Steve's case, you get the sense that those rights took a lot more than one great show to earn, and that in his case, they're a badge he quietly wears with pride.
"He put a smile on my face. We're pretty humble I like to think, and it's nice to get compliments, but when he threw in the: "I'm German and we don't give compliments or say nice things to people" I almost fell over. I was like, "You know what? That's f*cking amazing. Thanks, bro."