Daisy in the Desert
By David Barbour | Lighting and Sound America
October 2013
Electric Daisy Carnival Flies Into Vegas
"Electric Daisy Carnival Upstages Its Lineup." So went the playful headline in Billboard describing the recent Las Vegas edition of the globetrotting electronic dance music festival. (EDC's travel diary now includes regular stops in London, Puerto Rico, Orlando, New York, and Chicago.) The headline was a comment on the giant animatronic owl that occupied the center of Stage 1, but it could speak for the entire event, a spectacular multi-stage music-and-visuals blowout that drew an audience of 345,000. EDC Las Vegas, of course, presented a hit parade of leading DJs, including Avicii, Armin van Buuren, Afrojack, and Tiësto. But there was far more going on at Las Vegas Speedway, the site of the event. Overall, 200 EDM artists were presented on seven stages, starring in a show that included theatrical performers, interactive art exhibits, and amusement rides. This story focuses on Stage I (Kinetic Field), which was dominated by the owl (a witty allusion to Insomniac Events, the show's producer), and Stage III (Circuit Grounds), which was dominated by a massive curved metal grid.
"In my 19 years here at Mountain Productions, this is the largest scaffolding structure I have ever worked on," says Paul Serkosky, lead engineer of the Kinetic Field stage. (His number-two project was Woodstock 1999.) "The main stage and audience towers were the largest 3-D AutoCAD models of scaffolding I have ever created, with over 49,000 scaffolding components. This includes the main stage blueprints as well as four 80'-tall audience towers Mountain Productions also engineered." Consider the following facts and figures: The stage's scaffolding wall was 85' tall and 56' deep, with an overall width of 480'. It required 335 tons of scaffolding and structures and 984 tons of ballast. (If laid end to end, the scaffolding used in the stage would span more than 50 miles.) The stage's center wall supported a 40'-by-28' IMAG screen, weighing 12,800lb. The stage was designed to resist 90mph wind speeds with all equipment installed.
The structure was fully covered in more than 176,000 sq. ft. of scrim, inflatables, and fabric. The center-stage owl, which had a 35'-by-76' wingspan and weighed 25,000lb, required a custom support frame. Special truss supports were applied to the 3-D scenic mushrooms and flowers that gave the stage its psychedelic aura. Overall, 35,000 scaffolding pieces were used. Gary Goddard Design created the owl and all other on-stage set pieces. Another component Mountain Productions provided was an array of audience towers. Each one was 80' tall with varying width and depth. (Two were 42'-by-42'; one was 84'-by-42'; and one was 168'-by-42'.) All four towers had 14 wide audience tunnels and were fully covered in scrim. The towers, which amounted to 178 tons of scaffolding and structures, supported more than 41,000lb of video screens. Amazingly, Serkosky notes, "We became involved with the project on April 19, only nine weeks prior to the show and only six weeks prior to equipment leaving our facility in Pennsylvania. I logged over 260 hours of AutoCAD drawing on this project and over 125 hours engineering time." He adds that it was "the first time for us that construction drawing prints were viewed only on iPads, saving over 10,000 sq. ft. of the paper print copies that are normally used by Mountain Productions supervisors."
Steven Lieberman, the lighting and video designer for Electric Daisy Carnival, was responsible for all seven stages. He says that planning for the event begins the day after the previous year's edition concludes, with the detail work starting about six months out. He adds that he designs roughly 15 festivals each year for Insomniac Productions; with an average of five stages per event, he must design approximately 75 stages a year. The Kinetic Field stage had lighting and video gear supplied by AG Light and Sound, audio by 3G Live (PA systems included a Martin Audio multi-cellular loudspeaker array), pyro and special effects by Pyro Engineering, and lasers by Lightwave. V Squared Labs served as VJ. Other personnel included Andrew Gumper (project manager); James Watral (production manager); Sondra Pozan (video lead); Alex Fuentes, Mariano Carrasco, and Cassondra Romero (video crew); James Poepping (master electrician); Tom "Bliss" Kelleher, Michael Mustica, Eric Kasprisin, Mark Hoover, Hal Deiter, and Bryce Brumbaugh (lighting crew); and Harry Bellord (stage manager).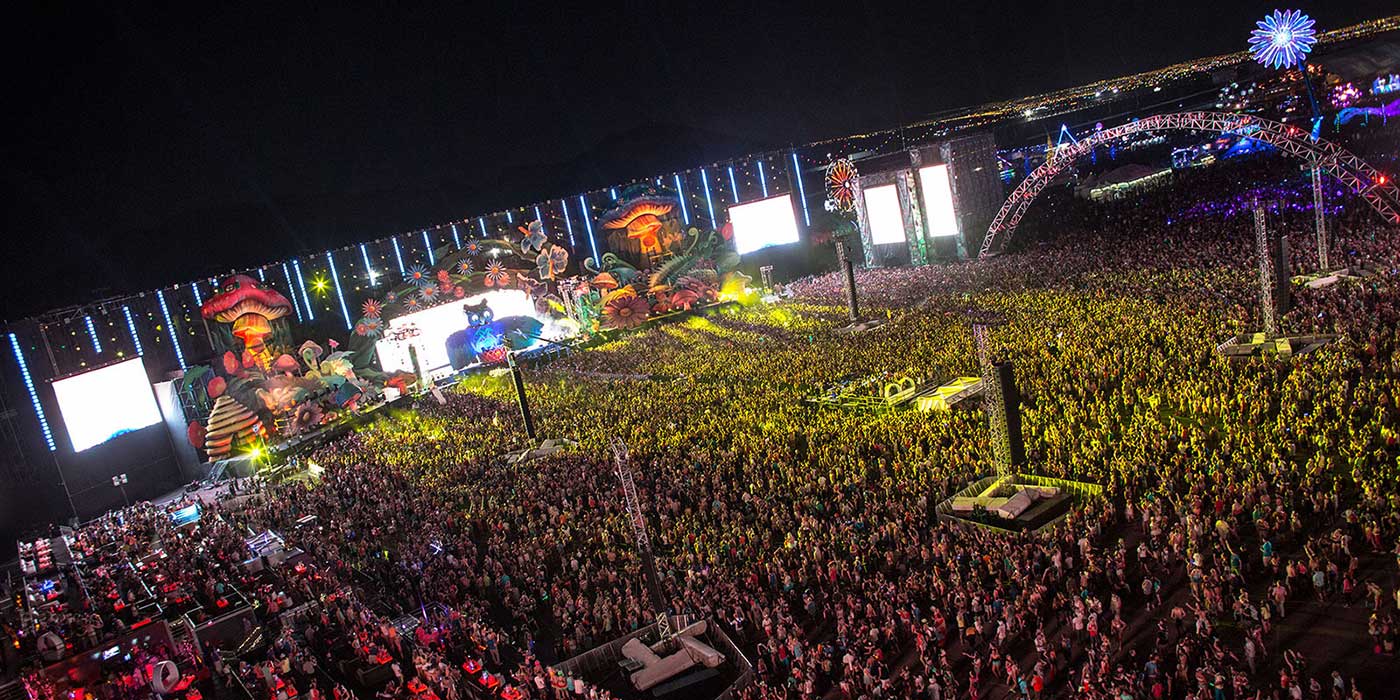 Although Lieberman is in charge of lighting and video, he says, "We put a festival LD at each stage. Typically, the headline acts bring a lighting designer. Sometimes, the top one or two guys will program their own desk, and we will get them programming time. Most of the time, we give them the 30-second tour and say, 'We're taking a walk. Have a nice day!'" He adds that much of the lighting consists of busking. "We share with them the page with all the lights on it; we set it up on the desk and, if they have any requests, my guys help them with it." He adds, "This was the first year I hired a programmer [Aron Altman] for the main stage. It was a 96-universe show; I couldn't handle that and still manage the rest of the event."
As you can imagine, the sheer numbers of gear involved were staggering. "We brought in gear from every inch of the United States," says Lieberman. "We cleaned out every Bad Boy and Best Boy that PRG had." The gear for the Kinetic Field stage included 96 Clay Paky Sharpys, 48 Sharpy Washes, 120 Martin Professional Atomic 3000 strobes, 188 PRG Bad Boys, 80 PRG Best Boys, 61 Philips Color Kinetics ColorForce 72s, 140 Elation Opti Tri 30 LED PARs, 39 Elements KR25 lighting matrices, 32 Eurolite 2Lite LED blenders, 426 Eurolite 4 x 4 RGB LED units, 1,200 AG Mesh 37mm panels, and 2,300 AG Flex 15mm panels, all controlled by three MA Lighting grandMA2 full-size consoles plus 12 MA Lighting NPUs.
For Stage III, Circuit Grounds, AG Lighting supplied the staging and structure as well as lighting and video. Audio was supplied by 3G Live, pyro and special effects by Dynamic Effects, and lasers by Lightwave. V Squared Labs again handled VJ duties. Personnel included Andrew Gumper (structure design/production manager), Kurt Ross (stage manager), Patrick Dierson (lighting programmer), Chris "Grandpa" Harshfield (master electrician), Junior Jones (lighting crew chief), PJ Visser (Cyberhoist programmer), Sondra Pozan (video lead), and Michael Wutz and Aaron Scharaga (video crew).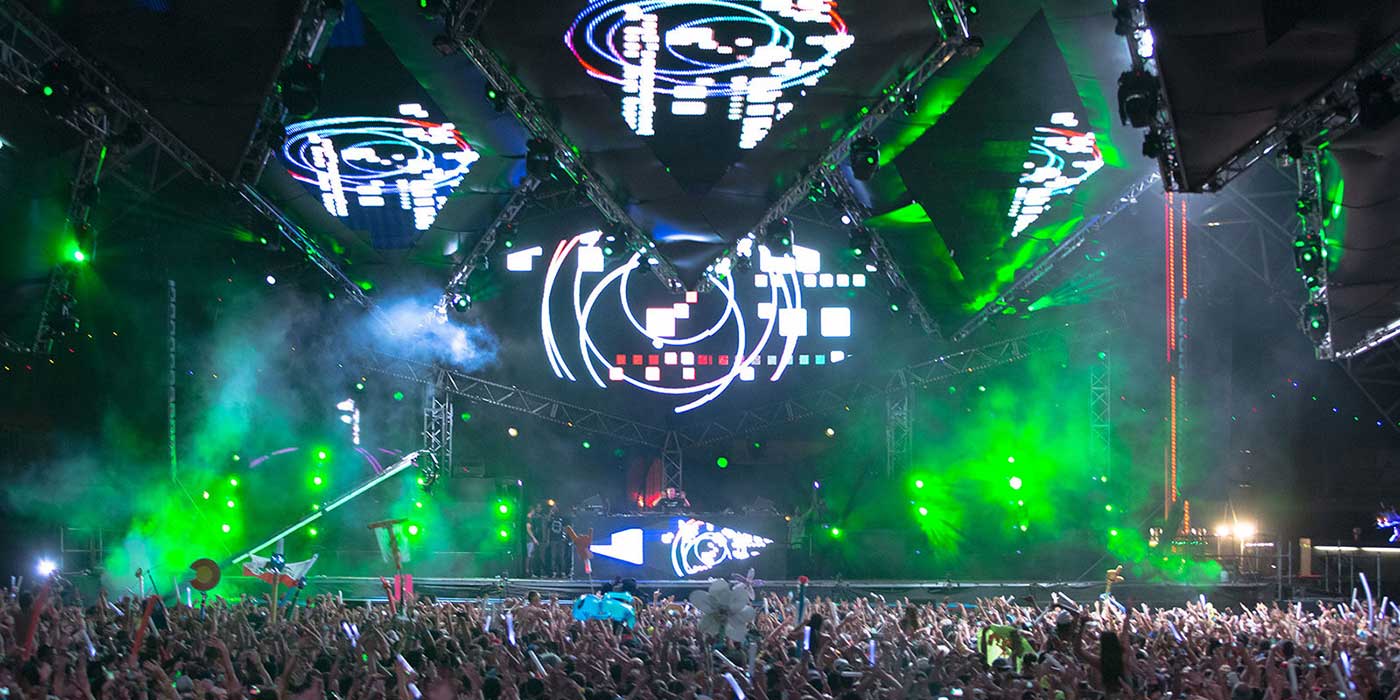 Personnel for Insomniac Events included Pasquale Rotella (festival producer), Forrest Hunt (executive producer), Alyxander Bear (production manager), Ian Gotts (stage manager), and Johnny Jos (event design and décor). Gear included 120 Martin Professional MAC 101s, 16 Clay Paky Alpha Beam 1500s, 16 Alpha Spot 1500 HPEs, 96 Martin Atomic 3000s, 28 Coemar Infinity Spot XLs, 44 Elements KR10s, 60 Elation Design LED Tri Strips, 80 Elation Platinum Spot 35 PROs, 176 Elation Opti Tri 30s, Elation Protron LED strobes, 80 XLNT Cyberhoist automated chain motors, 104 Lighthouse R7-ER video panels, and 500 AG Mesh video panels. An MA Lighting grandMA2 full-size console, one grandMA Light, and three MA NPUs provided control.
In addition to AG, gear suppliers included Vision Lighting, Global Trend Productions, and Felix Lighting. "There's a roster of vendors I've been using for years," Lieberman says. "I have a relationship with each of them, which gives me some latitude. PRG also got a nice chunk of the action because I needed a large number of highpowered fixtures, and they have Bad Boys and Best Boys, which really suited my needs."
Lieberman says that the scale of the project is its own challenge. As he says, "Getting all of the vendors to play in the same sandbox, dealing with all the personalities and the site logistics, and the truck is late, and it's 115° outside, and five guys overslept. I'm responsible for ten vendors with 20 guys each. That's 200 guys, and I've got to deal with their crew chiefs; getting them all together is probably the hardest part."
In any case, Lieberman's immediate future is loaded with more such events. Electric Daisy Carnival drew 115,000 attendees each day, and it's likely the sky is the limit. "When this music first came to the US, you bought an illegal ticket at a record store, and you'd have to follow a map on the back of the ticket to a warehouse that someone had broken into," he says. "Now you go and get your ticket from Ticketmaster."
Original article written in Lighting and Sound America Magazine or view a PDF.