ULTRA MUSIC FESTIVAL 2016
May 2016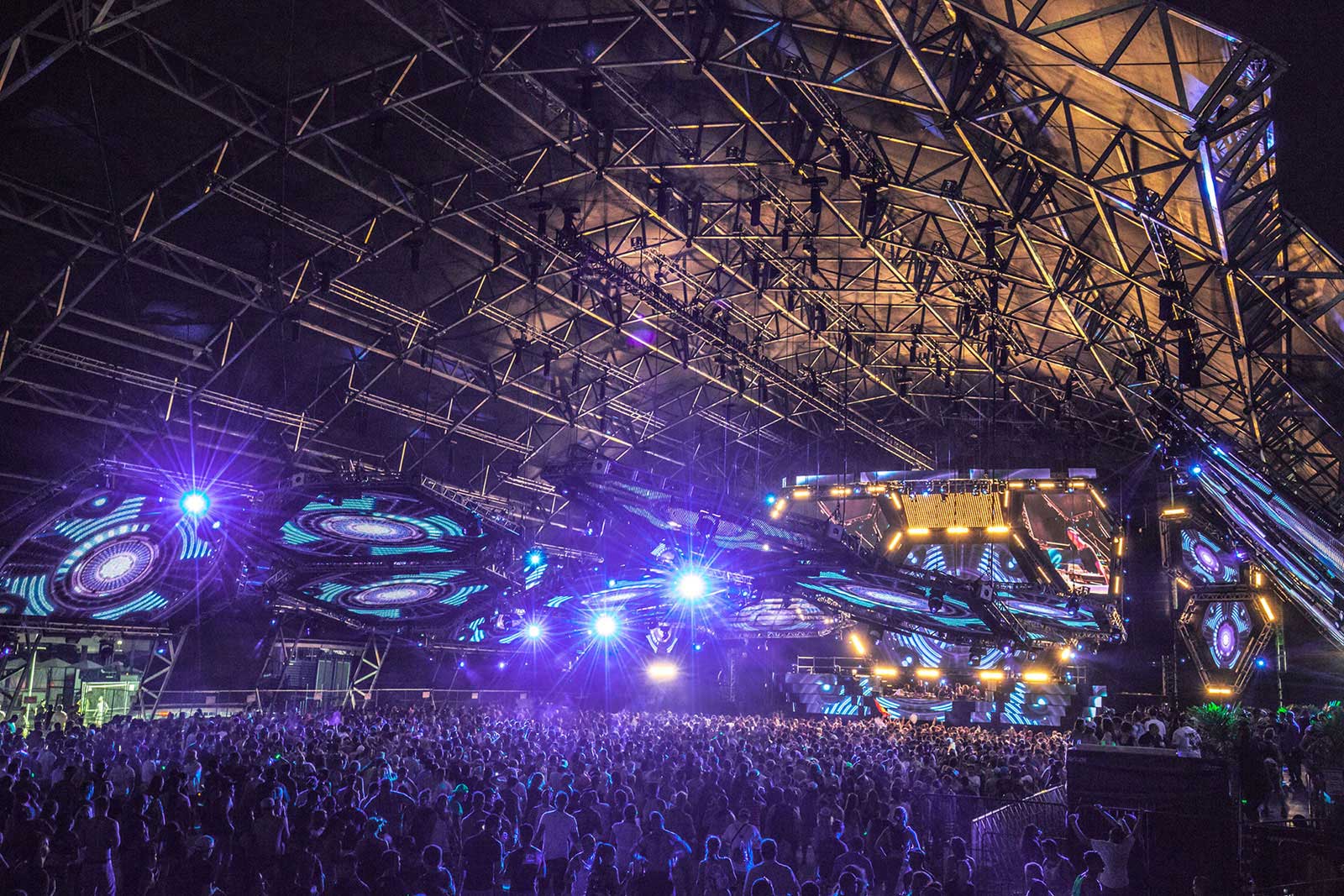 Highlights from one of the largest dance festivals in North America.
Miami once again played host to its annual EDM spectacular, Ultra Music Festival. With over 150,000 die-hard dance music fans descending Miami's Bayfront Park and eight stages, the challenge was on for the production team to keep up with some of the biggest electronic acts in the world which this year included Avicii, Afrojack and David Guetta.
LIGHTING
For the Carl Cox & Friends Arena, the Main Stage and the Worldwide Stage, production design duties fell to Steve Lieberman of SJ Lighting. Contracted directly by Ultra, Lieberman also took on the role of lighting designer for the Main Stage, where he collaborated closely with Creative Director Richard Milstein and Production Manager Ray Steinman to develop a unique Ultra concept that also took into account the requirement and specs of the headliners. At the Main Stage, lighting at FOH was looked after by Patrick Dierson and Josh Spodick, working for SJ Lighting. Guest LDs included Andre Beekmans from Art of Light (Hardwell) and Andy Hurst (Pendulum) who closed the show on Sunday.
Over in the Carl Cox & Friends Arena, Lieberman's design featured 24 Robe BMFL Spots and 96 Robe Pointes. These fixtures were used extensively over the three days and chosen for their multi-functionality. A series of trussing lighting pods were positioned in the roof so they curved around the structure, accentuating the architecture. The moving lights were scattered across these pods, each of which was filled with LED panels in the centre, a combination of eight mm and 37mm pitch products. The six most central pods were flown on an automation system that moved them into different positions throughout the night, tilting, pitching and completely changing the spatiality of the venue. The structure, video, lighting and rigging were supplied by AG Production Services from Las Vegas, headed by Andrew Gumper, with the Robes supplied by locally-based Zenith Lighting. Zenith also supplied Elation Profesional Color Chorus 72 LED battens, which were used as wash lights and to outline the video pods.
Joining Lieberman at FOH on operating duties was Michael Seeverens from The Art of Light, who looked after ASOT. Robe's BMFLs and Pointes once again proved they are ideal fixtures to extend the energy of EDM lighting. Lieberman commented: "Optically, the Robe fixtures exceeded my expectations - when it came time to put the fixtures directly into the face of the audience, I was able to balance the looks with a very refined edge focus so it was visually pleasant to everyone. With regards to the Elation Professional Color Chorous, they are an aggressive in-your-face detail of the truss design that worked well. There're durable and high intensity and fitted our needs when detailing and highlighting a truss design, not just colouring it."
Facing out onto Biscayne Boulevard was Ultra's Worldwide Stage. Given the shoulder-to-shoulder density of the crowd, not every fan was lucky enough to get a direct centre stage sightline. Still everyone in the crowd got a clear and direct view of the action on stage (and on the lighting rig), thanks to an innovative design by Lieberman, which drew on sharp, clearly defined 'fingers of light'. "The large crowd at the World Wide Stage has to be accommodated with a viewing area that is kind of uniquely configured," stated Lieberman. "Biscayne Boulevard is closed off for the festival and we have people going up a 17ft hill all the way to the street to see the stage. So we have to bend the rig to give everyone a good perspective."
Rather than position the stage in back of his arch, as would typically be the case in festival design, Lieberman puts it against the side of the arch. "Essentially, we curve the design, so even if you're outside the chute, you still get a good view of what's going on," he said. "However to do this, we need to use lighting in a way that directs attention to the centre of the stage from any viewing angle. We also needed lighting that blocks out the area outside the stage. The 36 Chauvet Professional Next NXT-1 panels we had were excelled at doing this for us."
Lieberman positioned the Next NXT-1 panels on eight truss beams fanning out from the centre of the stage. Using a Madrix LED lighting controller, he created a seemingly endless array of stunning effects that captured attention from any viewing angle. "I called the shafts of light coming down from the NXT panels 'the fingers of God'. You had to look at them," he said. "Of course, these beams didn't literally block out the area outside the stage, but they most definitely pulled your attention away from it and drew it into the performance area so you felt like to you had a great sightline wherever you happened to be at any given moment."
Also present on the Worldwide Stage were an abundance of Elation Professional Opti Tri 30's RGB PAR lights (343 in total). Speaking about the fixture, Lieberman commented: "It has a small profile and great output for its size. Instead of mounting it on the side of the truss it fits perfectly into 12ft truss and makes for a clean detail aesthetically. And because it fits inside the truss if the focus is slightly off they still look good and you also get a nice reflection off of the truss aluminum." The stage also had 55 Elation Professional ELED TW Strips and 33 Platinum Spot 35 Pro moving heads. "We needed something powerful to keep up with the rest of the rig and the Platinum Spot 35 fit our needs," Lieberman explained. "I like the stock patterns in them that are able to create real classic designs."
Lieberman credits the entire Ultra team with making the Worldwide Stage a success. "This is a team effort beginning with Russell and Charlie Fabisch and Adam Russakoff, our creative director Richard Milstein and production manager Ray Steinman."
The stage design for the Live Stage was built around the permanent Bayfront Amphitheatre and extended with side PA and video wings that also created additional lighting positions. The design included 70 Robe Pointes from locally-based rental company Paradigm Lighting. Running FOH here were Mike Smirka and Miguel Cortero, overseen by Jorge Valdez. For Nero's performance on the Live Stage, Zenith Lighting provided ACL 360 Bars for backlight and eye candy. Mounted on truss towers, the ACL 360 Bars output and continuous 360 degree movement were key features for Zenith, who has been doing lighting and video for Ultra the past five years. Zenith also provided a lighting floor package for Knife Party/Pendulum on the Main Stage with lighting design by Andy Hurst, as well as video for Knife Party. Zenith General Manager Adam Vidaurri commented: "Every year seems to be getting bigger and better when it comes to Ultra and we were thrown a lot of obstacles but we conquered all of them! All of our crew worked long hours to get this show going and I can't thank them enough."
For the UMF Radio Stage, Beachsound & Lighting provided Elation Professional Colour Chorus 48 LED battens, Platinum 5R Beam moving heads, Cuepix Panel LED matrices and ACL 360 Matrix moving head matrices while Elation Level Q7 IP RGBW PAR lights were used to uplight palm trees in front of the stage. Beachsound president and founder Andre Serafini commented: "Elation has always preformed magnificently for us, both in build and in service. We are happy to be part of the growing family."
VIDEO
Also in attendance at the festival were Video Illusions' Nick Whiteoak, Dave Whiteoak and Ross Jordan. The company provided its services for Arcadia Spectacular as well as working on Knife Party's set and Pendulum Returns, who headlined and closed the festival on the Main Stage. This was the first time the spider has been out to the US after a successful After Burner festival appearance last year. Both Nick Whiteoak and Jordan comment how the Arcadia Spectacular has been honed making it easier to transport as the giant spider is in demand for more events around the world. The LED section to Arcadia may have been squeezed into two flight cases but there's a lot going on up there with 61,440 pixels, 17 Receiver cards, 250 metres of power and data cable, 22 custom made ally frames, 30 custom made steel brackets and bar clamps, two 100 metres data drums to FOH and an LED Processing rack later and the talking / thinking fire breathing spider takes shape.
Video Illusions' Dave Whiteoak worked on the Knife Party and the Pendulum Returns show on the Main Stage at Ultra. Brought in to work alongside Whiteoak was Mattie Evans from Nocturnal Touring and Andy Hurst.
Video Illusions was brought in to run the visuals and server tech for the show with Jonathan Bernbaum from V Square Labs. The Media Server software was Avolites Ai Infinity R8, run on laptops. Said Whiteoak: "The custom Pendulum video content that was created by our good friends Immersive and was dug out of the closet from 2011, dusted off and made ready for Ultra." Video Illusions expressed the excitement of being part of such a huge return for Pendulum and to close one of the largest EDM festivals in the world with a drum 'n' bass set that will go down in history.
AUDIO
Carl Cox's relationship with Funktion-One has grown around an appreciation of great sound. The loudspeaker manufacturer's pivotal involvement in Space Ibiza has laid the ground for a strong bond to form over the years. Cox understands the power of good audio. With US distributor, Sound Investment, Funktion-One has been providing the sound for the Carl Cox Arena at Ultra Miami for a number of years. Each year, in typical Tony Andrews' style, Funktion-One looked at ways of building on the previous year. This year the Carl Cox and Friends Arena bore witness to some exclusive, new technology – namely the Funktion-One F132 bass enclosure, featuring Powersoft's impressive M-Force transducer.
With Ultra Miami falling just before Prolight + Sound Frankfurt, it provided the perfect testing ground for the F132. After all, you will be hard pushed to find a better arena to put a bass speaker through its paces than three days at the world's premier electronic music festival. By the end, Cox and the organisers were over the moon, and Andrews had the information he needed to make some final adjustments before the F132's launch a couple of weeks later in Frankfurt.
While Powersoft's M-Force motor provided the technological inspiration for the 32-inch bass enclosure, it is the appetite for bigger, better and deeper bass that created the demand for the F132 in the first place. Andrews was attracted to the M-Force motor's capabilities from the start. "The sheer horsepower got my attention," he recalled. This intrigue led him to think about ways of applying Funktion-One's unique bass horn technology to the heavyweight power output of the transducer. Andrews continued: "The motor allowed us to make a big enough cone so that we could scale up our horn-loaded bass technique. The near half a tonne of push it gives us means we could scale up to a 32-inch driver and still keep it dynamic. Scaling the size up meant we could load down to 24Hz. DJs don't always have material that does those frequencies, but when they do, the result is unequivocal - everybody experiences it. It makes the bass really big and really fat. It's the first time that we've been able to have those frequencies from a fully horn-loaded source. Typically, it's a ported box that has its own character. Nobody's done a fully horn-loaded one before. There's no rear wave coming out of holes, it's a speaker and horn. Therefore, it's much more joined up and gives a dynamic that's completely unique."
The ultimate aim was to produce a large bass enclosure and to experience low-end frequencies from a horn-loaded unit. Typically, low frequencies at this scale have only been achievable (by other manufacturers) using a ported box. "A lot of low frequency stuff is not very musical; it's just a rumble. I wanted it to be dynamic and musical."
Powersoft's Research and Development Director, Claudio Lastrucci, was ever-present during the F132's two-year development. "Claudio was very interested in what we were doing from the start," explained Andrews. "He came over to hear some of the prototypes and definitely got the message. I recall him saying that he'd never heard anything like it. When we got to the final stage, he came over again to help set-up the M-Force."
The final stage of development for the F132 was being tested in a live event environment. Tony Andrews said: "When I returned from Ultra Miami, having run the F132's in some pretty testing conditions, I understood what we needed to do to make it as effective as possible," explained Andrews. "So we carried out a final re-tune, which has given us a boost in terms of upper frequency response. Combining F132's and F221's gives us the best of both worlds – punchy and dynamic mid and upper bass frequencies, with very deep, well-rounded lower and sub-bass frequencies."
Another Powersoft specialist closely involved in the process, and who was able to assess the beta testing in person at Ultra Music, was M-Force Project Manager and Sales Manager, Massimo Minardi. He completely agreed: "With the F132 working continuously to the limit - 12 hours a day over three days - it responded brilliantly to the pressure of both artists and a demanding audience; this was far removed from the simulations and tests under controlled parameters in the laboratory."
The impressions of Todd Konecny, PA manager and co-owner of Sound Investment, and experienced sound engineer, Ron Lorman, could not have been more overwhelming, he confirmed. Fully conversant with the sound system fielded at the same event last year, they described their astonishment at the first switch-on of the eight-sub stack, and noted: "The incredible pressure level without any compression or distortion, even at the lowest end, and the completely different visceral feeling with the sound."
Crucially, Carl Cox was very happy too. Andrews concluded: "Carl is a big supporter of what we do and he was so made up this time. There aren't many artists that come for sound check but he did and he brought the whole of the Ultra organisation with him – they were blown away with the sound."
Cox furthered: "As I walked into the Mega Structure, I had the new Funktion-One speakers put before me. The smile on my face was from knowing that this was the very best sonic sound experience I had ever heard in that area. It was so warm, pleasing and powerful that it shook all my senses to the core of my soul and this is because Tony has managed to get the true sound of analogue in the digital age. This is what has been missing in a lot of sound systems over the years. I wish more people would take a leaf out of his book, but there can only be one Tony…"
With tickets registration already open for next year's event, the creative team for Ultra 2017 will surely be putting together ideas to make sure the festival keeps its reputation of one of the most renowned EDM events on the planet.