Steve Lieberman Accents Coachella Yuma Tent DJ Booth With Geyser RGB
CHAUVET DJ
April 27, 2016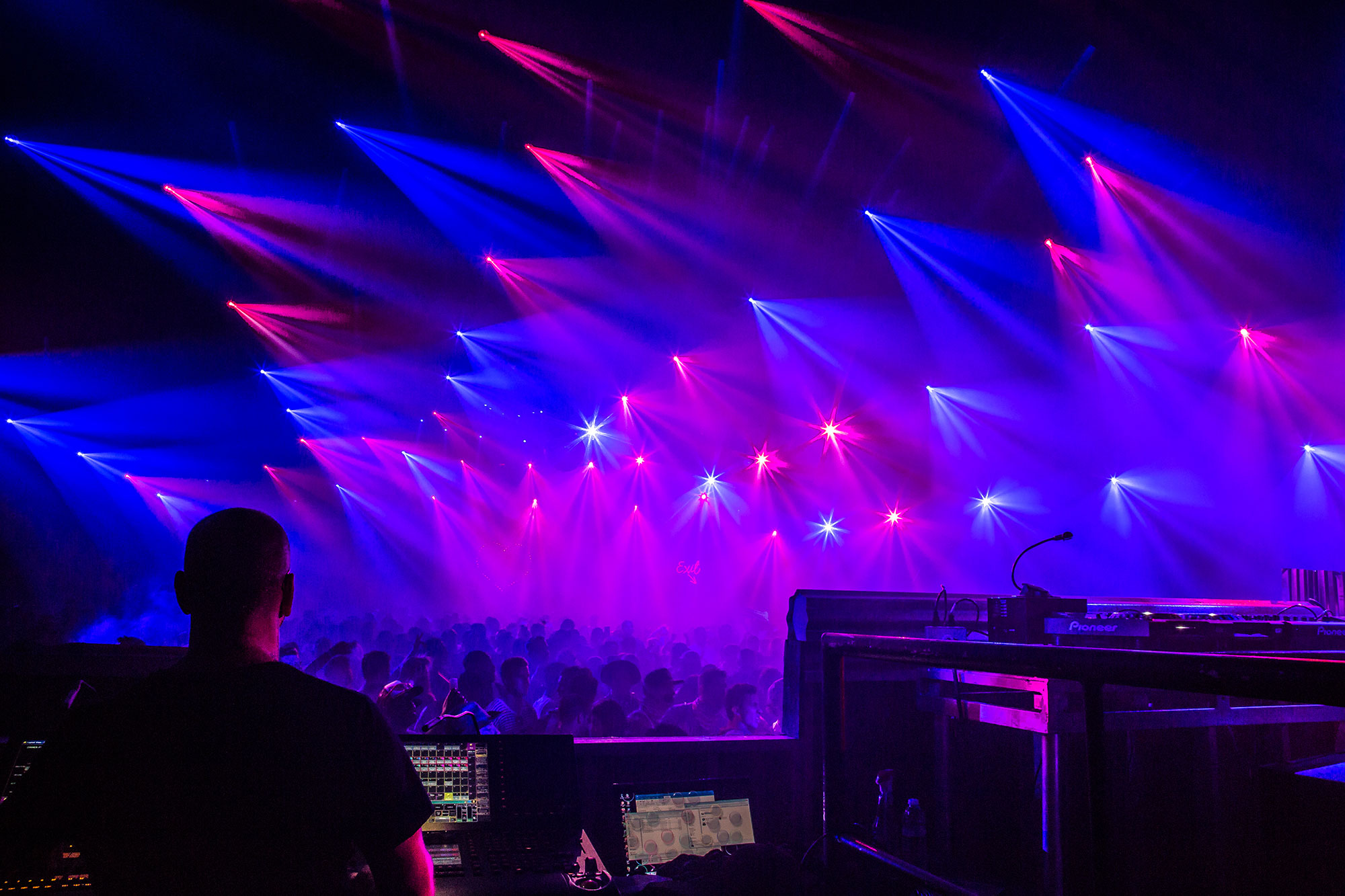 INDIO, CA – Now in its 17th year, Coachella (or the Coachella Valley Music and Arts Festival as it's formally called) is bigger, brighter and more musically diverse than ever. Among the 160 artists that performed on its various stages were legends from the world of rock like the reunited Guns 'N Roses, hip-hop artists including Ice Cube, gospel greats such as Mavis Staples and jazz icons like saxophonist extraordinaire Kamasi Washington.
For those looking to enjoy a club experience, though, the center of the two-weekend festival was the massive and air conditioned Yuma tent, where a bevy of talented house and techno heavies performed in a nightclub-like setting that featured an eye searing lightshow designed by Steve Lieberman of SJ Lighting, Inc. The renowned LD added an extra dimension to the DJ booth at Yuma by calling on the atmospheric power of the Geyser RGB LED fogger from CHAUVET DJ.
A powerful wireless DMX controlled fogger, the Geyser RGB blasts water-based fog 25' in the air while simultaneously illuminating it with any combination of red, green and blue light from 21 3-watt LEDs. The colored fog can be used to make a variety of effects, such as the colored plume of a jet or spacecraft taking off. Lieberman evoked such an image in his design at the Yuma tent by arranging eight Geyser RGB units on the downstage edge of the DJ booth.
The DMX-controlled foggers released their jet-like plumes at critical times during performances by the likes of DJ Koze, John Digweed, George Fitzgerald, Black Coffee and The Black Madonna. "The Geysers served as a CO2 jet at different points throughout the performance each night," said Lieberman. "They engaged the audience throughout the show by adding an extra element of drama and imagery to the area around the DJ booth."
Lieberman also used the Geyser RGB foggers to intensify the impact of the Yuma tent's high-octane lighting rig. "Our goal was to create an overwhelmingly powerful lightshow that made you stop, drop you jaw and say wow as soon as you walked into the tent," he said. "This was an awesome lineup of DJ artists that we welcomed to the tent, some of the most outstanding talent in the world. We wanted a lightshow that matched this lineup. We had super intense fixtures and the colored fog added to the impact. The Geysers were a valued piece of our design."
About CHAUVET DJ
CHAUVET DJ is a premier line of entertainment lighting, controllers and accessories for the mobile performer, DJs, clubs, corporate events and more — offering the most value in the industry.
About Chauvet
Chauvet, headquartered in the USA, is a leading global manufacturer of professional luminaires, truss and related equipment, fulfilling the needs of various industry sectors. Chauvet has four main brands: CHAUVET® DJ, CHAUVET® Professional, ILUMINARC® and TRUSST®. They share Chauvet's unified strategy to pursue every market segment where it has a competitive advantage in terms of value, innovation and performance, with an emphasis on LED technology. For more information, please visit www.chauvetlighting.com