INTERVIEW: Stephen Lieberman @ Nocturnal 2016
September 12, 2016
Behind the scenes, in front of the stage...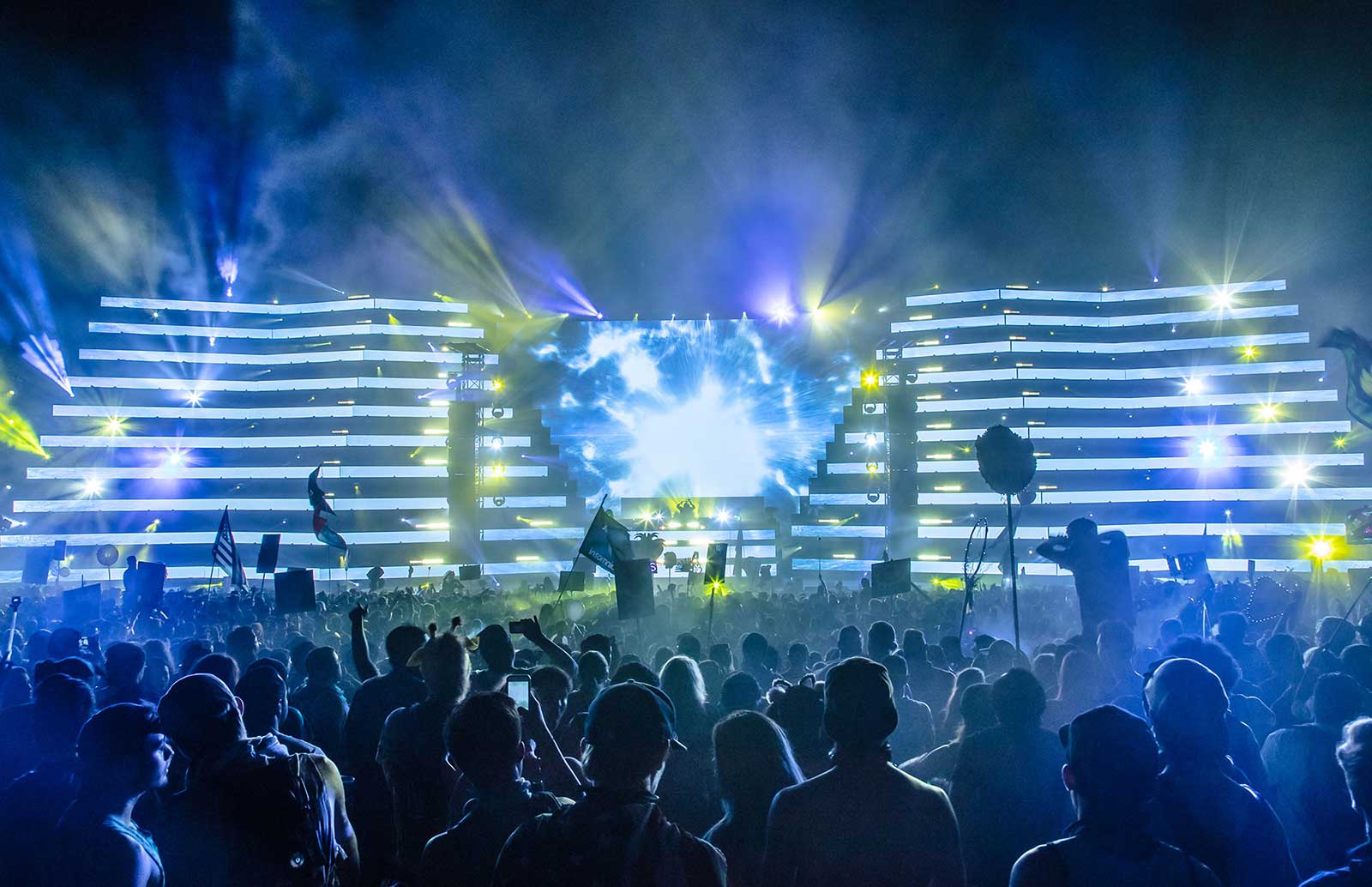 The main thing I took away from my first Electric Daisy Carnival was how visually engaging it was compared to other festivals. I was so blown away by the lighting and the stage design that I wrote a whole review about how stunning it was. Little did I know that a few months later I would have the opportunity to interview the mastermind behind it all!
Stephen Lieberman is one of the top lighting designers in music and nightlife today, and if you have ever been to a major music festival (Coachella, EDC, Escape from Wonderland, Ultra, The Veld, Freak Night...) or partied at a nightclub (Drai's, Life, Marquee, or XS in Las Vegas or Create in LA), chances are you have seen his work firsthand.
While interviewing Ephwurd, I mentioned that I had watched their set from the front of house with Stephen, and their excitement to find out that he was the one at the controls reminded me of how most fans act when talking about the DJs they want to see. Seeing people who are typically the ones fans lose their cool over geek out about someone most people may not know about convinced me that I had to learn more about Stephen.
He's a behind-the-scenes guy, but he's in front of the stage the whole time, and I know after this experience I will never view a festival or electronic dance show the same!
So you've been doing this for 25 years?
Well, professionally since '95. I graduated college in '94. I've worked in nightclubs since '87 when I was 15 (I'm 44 now), but I don't really count that as a professional career. I don't let anybody tell me they've been in this industry since they were 12. I've never seen a 12-year-old that's acceptable on my property on any job or on any project. I'll let you start the clock ticking maybe at 18 if you decide that college isn't for you; otherwise, 21 is probably the real age for any reasonable adult. You can't do it faster, you can't do it slower. That's what it is.
What exactly are you in charge of when you are working in the front of house?
I was doing only lighting. I have control over the color and the speed. I have control over the movement — what the movement is, the order of the movement, whether it strobes, when it strobes.
The guy to my left is the lasers, the guy behind me is video, so when you see me yelling at everybody, when I go, "Okay, listen for the next break, listen for the next moment," we are about to do something. Get ready. I'll tell them, "On the next drop," and they know my hand signals. "On the next drop, BAM. Kill it!" So the DJ will hit the drop, and bam! It happens in an instant.
Do you get to hear what they are going to do ahead of time?
No. You have to know the music. It's a ride, and you know when it's going to drop. If you listen to the music enough, you just know. Sometimes you miss, but that's just because the DJ's trying to mix it up on purpose. We are just riding the wave, and it's all live. For us, it's live.
Music, even electronic music, is a formula. There's a verse, chorus, and bridge. Electronic music, even if it doesn't have vocals, has a very similar format. It still has the same thing. There's a chorus, there's a big hook, there are the different interludes, there's the bridge and the little change-up, and in the end, if you understand that and listen forensically, you know when it's going to change.
If you stay on top of the change, and you know how to control your desk, then you can make everything work during the show. I rarely miss. I feel it. I know what's going to happen, and I know what's going to be played. That's me knowing what I do for a living and knowing everything that's going on.
We're just basically reflecting whatever the music is playing. If you listen to the music in the background now, you can hear it. He's in a little interlude, and then he's going to build it back up and make it go BAM and the lights will build up with it.
How important do you think the visuals are?
We have a saying in the business: "Nobody comes to watch the PA, and nobody comes to listen to the lighting rig." They are equally as important. Nobody wants to dance in the dark.
There are moments when I can fuck a show up. Say the DJ hits a big beat, and I go, "Uhhhh, nope," and just black it out. I go, "I'm mad at you," and turn it off. That'll ruin the vibe. Or the DJ could crash two records together like he doesn't even know how to mix, and that'll kill the vibe.
All these things play together. When he's doing his thing, our job is to enhance the environment. We're all together, and you can't have one without the other. It's yin and yang. They're equally important. When the music is great, you could probably have one light on a mirror ball and be done, but the party is going to get old.
When the lights hit you in the face, it creates a physical reaction — that energetic, emotional, tangible response to the visual. And when the lights come on so bright that you can feel the heat come off of them, it's a different reaction. It's not just your eyes closing and opening, going "Oh, cool." There's a reaction to it and that's important. We go over-the-top here. We have been for years.
You were in charge of designing four of the stages at Noctural: The Wolves' Den, The Labyrinth, Sunken Garden, and Temple Noctem. What goes into the designing of a stage?
Every show is a little different, but for this show (the Wolves' Den), I designed the entire stage. Everything you see up there, I designed. Everything you see, except for the dirt on the floor, I drew. My concept from my brain. Stage 2 (Labyrinth), we had a guy design all of the bamboo and I lit it. Stage 3, I was given the tent, and I designed everything in it. Same with Stage 5. I was given a tent, and it was up to me to put everything in it.
They [Insomniac] know how many stages they are going to do because the stages are built based on the musical format. They'll call me, and they'll say, "We need you to do 1, 2, 3, 4, and 6." They give me a genre, and they give me a budget.
There's a reason I've been around as long as I have. There's more to it than being able to draw a pretty picture. There's drawing the picture, knowing how to build it, knowing where to get it, knowing how to engineer it, and maybe it doesn't have to cost what they have to spend.
Have you ever had a show where you had a vision, and you weren't able to deliver it?
I've had shows go south over the years. I did a show in Palms Springs in '98 or '99, and it was an absolute trainwreck and dropped me to my knees. The company I hired all the equipment from sent me all the wrong cable, and I had to hang lights and plug them in.
I was 70 feet in the air on a lift literally chopping the ends off of wires and splicing them together just to turn lights on. It was a nightmare. I called my girl, who's my wife now, and I was telling her what was going on, and I was literally crying.
But it's been a long time since I've had a show go south. Everything you see here is three months of work ahead of time in the background that you haven't seen, so when we get here, there should be no problems. If there's something that fails, it's going to be a small percentage of what is going on.
You don't see major failures nowadays. It just doesn't happen. Not in a show like this. Not in an Insomniac show, Live Nation show, or Ultra show. You are not going to see those kinds of failures.
What about the Basspod catching on fire at EDC?
You know, that was an unfortunate circumstance. We designed the circuitGROUNDS, and all of a sudden, we look over and we saw everybody freaking out. And I saw the equipment. Somewhere between the pyro, they had an electrical failure. That kind of stuff could happen, but they recovered and came back that same night. I don't even think it was more than an hour.
Is there any stage that has gone off exactly the way you want it, one that couldn't have gone any better?
I have to say, this stage (indicating the Wolves' Den). I programed this on Wednesday night, and these guys dialed it in. I flew out here Wednesday, then I flew home Thursday morning, hung out with my family, and then flew back Friday night. It took me exactly one hour.
You have two clubs that you are opening up in LA. Is it different designing a club versus designing a stage for a festival?
My company (SJ Lighting) designs stages and nightclubs. We've been blessed. Over the past 20-something years, we've built over 250 nightclubs, 10-15 a year. All over the world. I have two employees, and my wife is my business partner, so we are busy.
Right now in California, we are designing the new SUTRA, the remodel of Greystone in Hollywood, and Avenue at the new Dream Hotel. We have some new clubs that we are working on in Las Vegas that we can't talk about yet. We are doing a new supper club/nightclub in Dallas, and we are doing a new nightclub in the Hard Rock Hotel in Santa Domingo in the Dominican Republic right now. We are redesigning a couple of nightclubs in Miami Beach, and two in Singapore.
It's actually kind of cool. A couple of years ago, Insomniac did a stage design competition through its Discovery Project. I went through a couple hundred applicants for stage design, and then I finally picked this guy to come in and design a stage for us.
Now three or four years later, I actually just hired him to come work with me full time. He's done three tours in the military in Iraq, and he's going to move to California and start working for the company. It's a really cool success story, going from the Discovery Project to doing military work for the United States. We're really proud to hire him. I think it's really cool that we found him through the Discovery Project.
The most surprising aspect of what we do is finding out that this is not a scripted environment. 90 percent of the time what's going on in the front of house...we're just along for the ride. When you see a good show, you have to understand that the guy standing in the front of house — whether it's lighting, visuals, lasers, special effects — he's just waiting for it and giving it his all. He's not just babysitting a show.
You go to a rock and roll show, and chances are it's all time coded. The guy in the front of house hits "Go" and just watches it. But when we are in the front of house at one of the shows, we are running it. We are hands on with everything. We are changing it in the moment and making it happen.