What we can learn from a Coachella lighting designer's 3D workflow
By Allison Wallace | SketchUp Blog
February 7, 2020
Stephen Lieberman translates the language of music into incredible visuals. As founder and owner of SJ Lighting, Stephen and his team design and execute the jaw-dropping light shows for internationally renowned music festivals like Coachella and Electric Daisy Festival. Stephen adopted SketchUp in the early 2000s and has been raising the bar for production design ever since.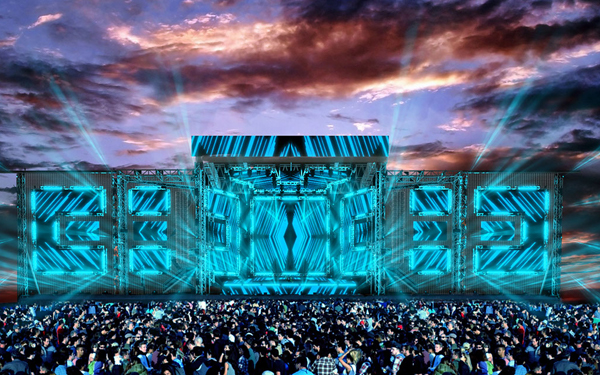 How did you find your footing in production design?
I started working in nightclubs in 1986 as a teenager, when the rave scene took hold of New York. It was the entertainment aspect of the hospitality industry that really fascinated me. The ability to create an experience by synchronizing music, visuals, and built space drew me in… and I never left.
I started several production design companies before moving out to California in 2001 and founding SJ Lighting. Back then it was just me. Now, we've grown our team to five full-time staff and several contractors.
At any given time, we're working on 20-30 projects simultaneously, with more in queue. About 50% of our time is devoted to designing and executing lighting for nightclubs and the other 50% is spent on music festivals.
Wow, 30 projects at once! What does a typical day look like for you?
My average workday consists of design concepting, meeting with clients, architects, and other consultants, exploring new business development opportunities, creating construction drawings, trouble-shooting systems... and that's just before lunch.
I have no room in my schedule, so I need a modeler that can keep up. SketchUp is FAST. The ability to quickly model 3D geometry and make various viewpoints, camera angles, sections, plans, and elevations is critical. Anyone in the design world knows that being able to show a client a concept quickly before you spend too much time developing is an indispensable tool.
Do you spend most of your time in the conceptual phase of design, or are you involved all the way through the build?
Every project is different, but we often manage our projects from idea to installation. Inspiration might start with a client's branding book, filled with images and creative that's on-theme for the nightclub or festival. Or, it might be as simple as a sketch on a napkin. It's our job to take those suggestions and visualize them in a cohesive way.
SketchUp is usually the second part of the design process ⁠— after pen and paper. SketchUp enables my office and I to quickly model a couple ideas, add shading, and generate fly throughs for clients so they can get an understanding of our design direction. To create photorealistic animations and visuals, we often take the SKP model into Cinema 4D.
Once the design is finalized, we usually see the project through to execution. That means everything from creating construction drawings and generating an inventory list, to setting up the system onsite. With our festival projects, 99% of the time someone from our office will be behind the control board executing the lighting during the show. You don't want to just hand someone the keys to the Ferrari, right? You also want to drive it.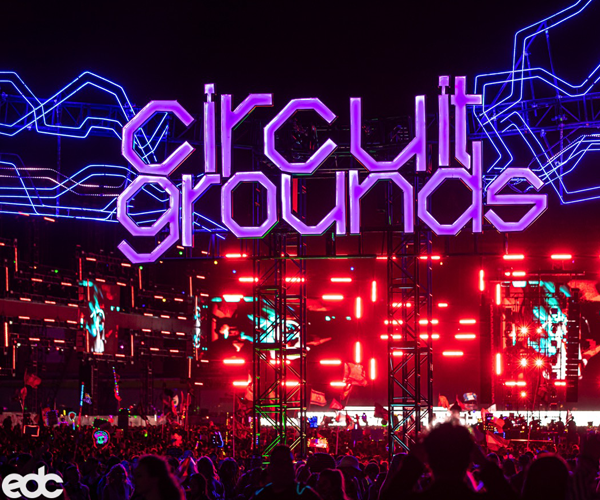 Speaking of festivals, you and your team work on the lighting for some of the largest festivals in the world: Coachella and Electric Daisy Festival. What's that workflow like?
Doing design work for a large festival is perpetual, meaning that we are always thinking of new ways to push the limits and explore new ideas. Sketches and concepting tools are critical during the beginning phases of development. This is where SketchUp really gets to shine. Whether it is a quick idea that we are trying to illustrate, or something more detailed. SketchUp allows us the flexibility to move very quickly and push and pull different bits of geometry and other shapes that we are considering.
For Coachella and Electric Daisy Festival, we're given specs on the tent or stage location, load restrictions, and dimensions, but the rest is wide open for us to design around. We create construction drawings that detail the build materials, loading requirements, fixture numbers, and other breakouts. We love using LayOut for our drawings because we can move from 3D to 2D easily. Being able to set a viewport and manipulate the model in LayOut is a timesaver. Plus, when we need to export JPEGs, LayOut makes it seamless.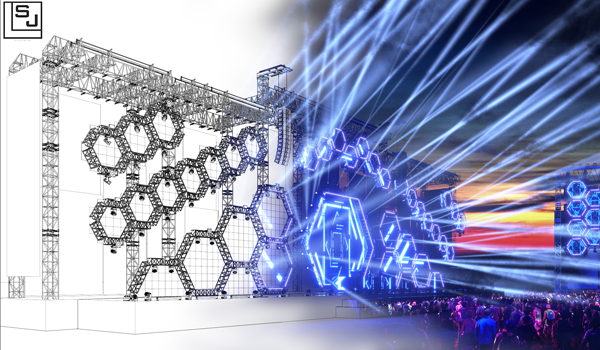 Given how experiential your projects are, it seems like VR would be a great way to communicate your vision. Is your team leveraging mixed reality as a presentation tool?
Absolutely! Being able to use Sketchup Viewer on a virtual reality headset and immerse a client or colleague in the design is a tremendous tool.
I also have the SketchUp Mobile Viewer App on my iPhone and iPad. I can open files, even heavy ones, that are stored on the cloud and share with clients and collaborators outside the office. I like having the flexibility to go from fully immersive VR to mobile viewing within the same application.
You've been a SketchUp user for almost two decades. How do you keep your workflow streamlined?
I have a ton of extensions in my toolbox. Toggle Units is helpful with our international projects, because I can switch between Metric and Imperial units. I also use CLF Center on Origin religiously. When I'm grabbing an object from one file, like a stage or a tent, and need to place it in another SKP file, Center on Origin is a lifesaver.
We also tap 3D Warehouse when we can. Recently, we were designing for a DJ Fisher show and needed to hang a PA system from a forklift. Instead of modeling the forklift from scratch, I pulled one from the Warehouse.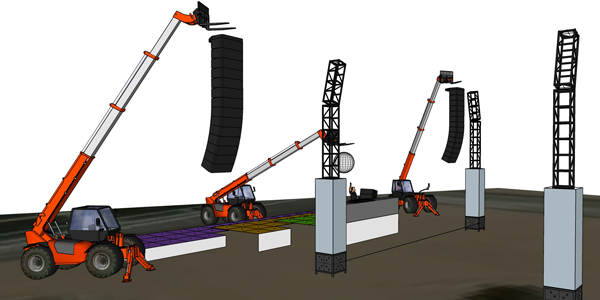 What's one SketchUp functionality you couldn't live without?
SketchUp works well with other software. Collaborating with so many vendors with different design software preferences can be tough. Because SketchUp can move easily between other CAD platforms, we can adapt to a stakeholder's preference and keep projects moving forward.