Flare Rayzrs Brighten the EDM Mix
February 22, 2019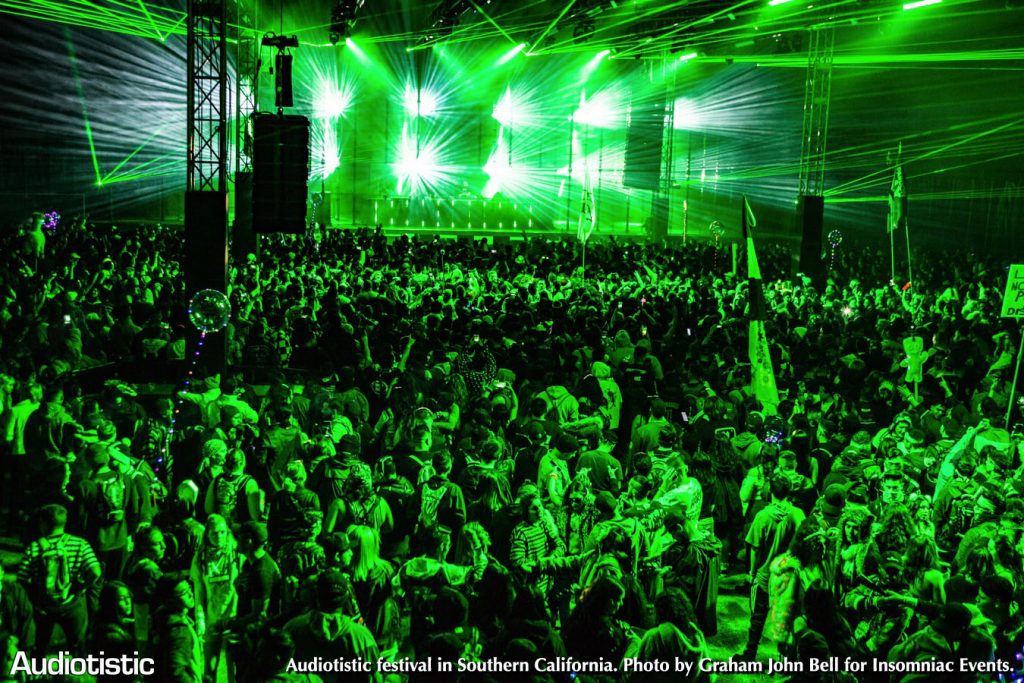 In a spectacular New Year's kick-off, Insomniac Events produced two blockbuster EDM festivals at the National Orange Show Fairgrounds in San Bernardino, Calif., with wondrous stage designs by SJ Lighting. More than 70,000 fans attended Audiotistic and Countdown NYE, shows that featured the biggest names in dance music performing from a large DJ booth highlighted with 12 Solaris Flare Rayzr™ LED fixtures.
"The Flare Rayzr blades were so bright, they were overpowering even at the back of the venue," says Stage Designer Stephen Lieberman, president of SJ Lighting. "We used the 1-meter models to detail the DJ booth, making it the focal point of each show. With a 25 mm semi-transparent LED screen in front, the Flares were so strong, we had to throttle them back a bit because the blow-through on the screen was so intense."
Lieberman adds, "The Rayzr's flexibility allowed us to tailor the look for each artist – and there were a lot of them. Many asked specifically about the fixtures and how to get their hands on them. In terms of output, color rendering, and overall performance, these fixtures crushed it."
SJ Lighting, of Westlake Village, CA, specializes in lighting and production design for festivals, nightclubs, and concerts. From festival stages like Lollapalooza, Electric Daisy Carnival, and Coachella, to mood-setting rigs in prestigious Los Angeles and Las Vegas nightclubs, Lieberman has been called an intuitive, holistic designer, who understands both the systems he's designing, and the people for whom he's designing. Find out more about SJ Lighting at www.sjlighting.net.
Insomniac Events was founded by Pasquale Rotella, who was inspired by the Los Angeles underground dance music scene of the early 1990s. Founded in 1993, Insomniac has grown to become one of the world's largest dance music experience companies, whose outreach also includes multiple record labels and publishing, interactive art, radio, and clothing. Find out more about Insomniac at www.insomniac.com.
The Solaris Flare Rayzr features the outstanding brightness, colors, and control performance of the world-famous Flare, deployed in a dramatic, razor-thin, blade format. The Rayzr's unique combination of bright and narrow creates a truly unique visual effect that fools the eye, seemingly magnifying the already incredible Flare brightness.
Rayzrs are available in 50 and 100 cm lengths, with 18 or 36 RGBW Cree® LEDs in 3-pixel groups. A patent-pending PreSet Yoke™, with adjustable 15-degree indexing, is standard. Flexible mounting/joining options are available for scenery, truss, pipe, and floor. Units can be seamlessly joined together, razor straight, end to end. Joined units can be vertically hung in total lengths of up to 5 meters! A 36° beam angle is standard, with 22°, 54°, and 70° options by special order. Flare fans everywhere will appreciate all the fabulous Flare features in this new, exciting format.
TMB is exclusive distributor for Solaris Lighting products. Learn more about Solaris Flare Rayzr, Mozart, and other innovative products at www.tmb.com. Audiotistic Festival in So Cal photo by Graham John Bell for Insomniac Events.