This is how Escape: Psycho Circus music festival will light up the San Bernardino night
By Liz Ohanesian | OC Register
October 22, 2018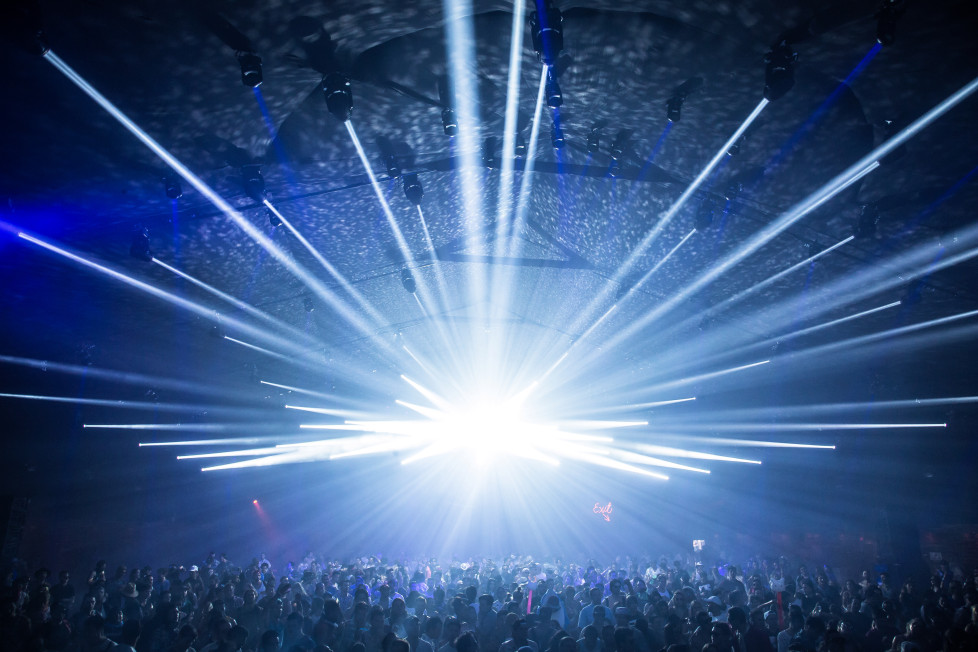 Westlake Village isn't known as Party Central, but there's a team here that's been lighting up festivals and clubs across the country for years.
Led by Stephen Lieberman, who caught the rave bug back in the early 1990s, SJ Lighting Inc. brightens stages from the Coachella Valley Music and Arts Festival to Electric Daisy Carnival. The company has handled lighting design for big name clubs such as Drai's in Las Vegas and Marquee in Vegas and New York. Recently, SJ Lighting brought its touch to Academy, the nightclub from Insomniac and Exchange L.A. that opened on Hollywood Boulevard earlier this year.
On Oct. 26 and 27, they'll be at work at NOS Event Center in San Bernardino on three of the four stages at Escape: Psycho Circus, Insomniac's Halloween weekender featuring Kaskade, Jamie Jones, Dubfire and more.
Lieberman started working at clubs in New York in the late '80s, not long after he finished high school. By the early years of the following decade, he had fallen into the rave world. Over a recent phone call, Lieberman recalls when a friend turned him on to underground parties.
"I remember a buddy of mine came over and said, 'I found this party. We're going next Saturday. It's going to blow your mind,'" he says. "We went to this illegal rave in some field behind a supermarket, somewhere in Sheepshead Bay, Brooklyn, where they broke into a warehouse and there were 2,500 kids dancing in the dirt. I've been hooked ever since."
Lieberman started working the lighting desks inside proper clubs, but he adds, "I have had my fair share of doing parties that weren't so much on the up-and-up."
As far as raves go, he lucked out: Lieberman says he never lost his gear when parties were shut down. "I've never been in the situation where I lost my stuff, but it's been threatened," he says.
It's a different scene now. Those early raves gave birth to a subculture that has endured for several decades. Dance music now straddles the underground and mainstream and the related events have long since gone legit, from proper nightclubs that book the world's top DJs to multi-day electronic music festivals that thrive across the country. SJ Lighting has had a hand in visualizing many of those events and venues.
The company operates with a core team of four people who work from the Westlake Village office. All four of the staffers also know how to work a lighting desk on job sites. That's the crew that can take the ideas from Lieberman's head and turns them into a reality. From there, Lieberman has a spreadsheet of lighting professionals that he hires on for specific projects, a necessity given the number of shows and events that the company handles.
"Lighting and production design is very much a delicate balance between art and science," says Lieberman. "It's a tech-driven field, but one that's rooted in art. Light can do more than just shine on the performer; it can dance above the crowd and fall along with the drop in a dance track. Light can be as much a part of the experience as music."
For DJs, reading the crowd is how they understand where to take a set. Lieberman works in much the same way. "We're reading off the music and we're reading off the crowd," says Lieberman. "We're in it together."
And, like a DJ, he has to be able to improvise quickly. "Everything that you're hearing, we're hearing and we're reacting in a millisecond," he explains.
That doesn't change, regardless of the specific genre of dance music or whether he's working a festival, with multiple days of artists, or a one-off event, like a recent gig from British house DJ Hot Since 82 at The Shrine. "We're just trying to translate the music into a visual story. We're just following along," he says. "Whether it's Hot Since 82 or Victor Calderone, it's our interpretation of whatever track he's playing."
There's a difference, though, between designing the lights for a show and for a venue. The lighting at a festival, for example, may be beautiful and can add to the experience in a lot of ways, but it's also fleeting. At the end of the weekend, the lighting rigs will come down along with the stages and props. "One of the great parts about putting a nightclub in is that the legacy lives a little bit longer," says Lieberman. "Clubs can have a 5-, 7-, 10-year lifespan and that rig is there for people to enjoy a little bit longer. I wouldn't say that it's in perpetuity, but you kind of get a little more lifetime out of it."
For Escape: Psycho Circus, SJ Lighting is working three of the festival's four stages. They're handling lighting design for the Slaughterhouse stage and production design for Ghouls' Graveyard and Cannibals' Tea Party. Lieberman himself will be at the techno and house-heavy Cannibals' Tea Party stage. "To be honest, I prefer that music," he says.
"Growing up in New York and being a techno and house music fan, that's the kind of music that I enjoy a little bit more," he says. "The darker underground beats is what I enjoy more, but honestly, I listen to everything."
He'll be working alongside the music he loves, which, after all of the prep work and coordination that goes into these gigs, sounds like the fun part.
He responds, "That is the fun part of the job."