Interview With EDC Orlando Light Designer Steve Lieberman
By Meghan Perkins | Live Design
November 24, 2016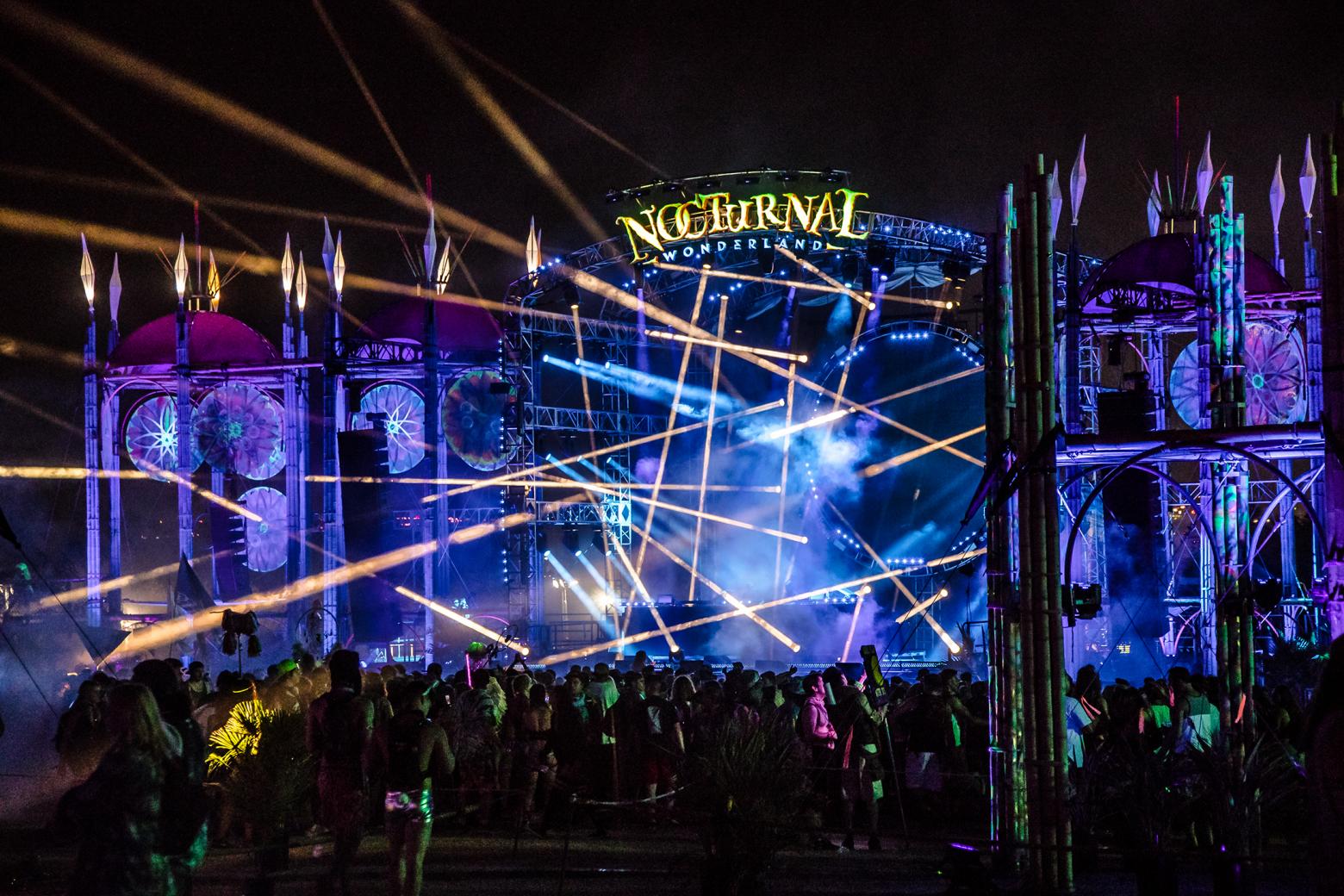 Over Labor Day weekend, the 21st rendition of Nocturnal Wonderland swept the San Manuel Amphitheatre and Grounds in San Bernardino, California, into another world with five massive stages, some of the world's top EDM artists, 3D sculptures, and glow-in-the-dark art displays. Production designer Steve Lieberman of SJ Lighting, Inc.–who will be a speaker for Envision: The Future Of Lighting at LDI 2016–created magical environments for four out of the festival's five stages, including Wolves' Den, Labyrinth, Temple Noctem, and Sunken Garden. AG Light & Sound, Visions Lighting, and Felix Lighting supplied the lighting equipment.
"The design philosophy is always to create something new, to give visitors a unique experience," says Lieberman. "The genre of music dictates what you need to do on a show, and you need to create a system that reflects that atmosphere. You really need to understand the culture and music in order to create the right lighting atmosphere."
As the festival's main stage, Wolves' Den was an impressive sight with a stacked horizontal LED screen design featuring 500sq-m (5,382sq-ft) of AG 8mm LED video panels, provided by AG Light & Sound, who also supplied the lighting and rigging. The horizontal LED screens were lined with some of the 118 specified Elation Professional Colour Chorus 72 LED battens. AG Light & Sound also provided 50 Clay Paky Mythos units and 76 Sharpy fixtures, 44 Martin by Harman Atomic 3000 strobes, 34 Elation Professional Cuepix Blinder WW2 units, 32 Coemar Infinity Wash XL units, and 10 Elements KR-10s. Due to a tight load-in schedule, AG's Las Vegas shop prepped all gear and trussing, which was then driven out fully assembled and craned into place onsite. Lieberman programmed the Wolves' Den stage.
For Labyrinth, Lieberman created an outdoor oasis with a series of bamboo pillars that accompanied a circular central LED screen. The production designer highlighted the bamboo pillars with 16 Elation Professional Colour Chorus 72 fixtures and 41 Elation ELED QW Strips. Fifty Elation Opti Tri PAR fixtures were used for truss toning, while 52 Elation SixPAR 300 LED lights added color to the set. "Half the reason kids are there is for the light show, so we gave them the traditional big looks with the BX fixtures," says Lieberman of the 28 Elation Platinum BX moving heads. Visions Lighting supplied the lighting gear, which also included 40 Robe BMFL Blades, 10 Martin by Harman MAC Viper Profiles, and four Antari UV Wash 2000 fixtures. Additional Elation Professional gear consisted of 22 Protron 3K LED Strobes, 20 Lumina Strips, and seven Cuepix Blinder WW2 units. Lighting was programmed with an MA Lighting grandMA2 console and a grandMA2 Lite console. Visions Lighting provided 110 Vision Tec 6mm LED tiles for additional content. The Labyrinth stage was programmed by Sean Guarino.
Temple Noctem's central scenic element was a massive gas mask decorated with black-light paint and complemented by 250 Visions Tec 15mm LED tiles. "The design needs to match the style of the music, and on this stage, the music was a subculture of a subculture," statesLieberman. "It was the youngest crowd at the festival, and the music was intense and fast, 180 beats per minute intense. The lighting was very strobe-heavy, and we just ran over them with the rig." The lighting rig featured primarily Elation Professional gear, including 32 ELED QW Strips, 22 Protron 3K LED Strobes, and 14 Platinum FLX fixtures, as well as Cuepix Blinder WW2 units, SixPar 300s, and Colour Chorus 72s, all supplied by Visions Lighting once again. Ten Martin by Harman MAC Aura fixtures also lit Temple Noctem, with stage lighting controlled via an MA Lighting grandMA2 console. The Temple Noctem stage was programmed by Maxwell T. Robin.
Light refracted off a 9' mirror ball hung above the Sunken Garden stage, which was housed underneath a tent. "We wanted to create an old nightclub feel, dark and moody: a real underground subculture feel with no video," explains Lieberman. Felix Lighting supplied 88 Martin by Harman MAC Auras, 16 Martin Atomic 3000 units, and four Clay Paky Sharpy Washes. Almost 50 Elation Professional Platinum Beam 5Rs created a pixelmapped design across the entire space, while 48 Elation ACL 360 Bars were mounted on king poles for linear looks. The DJ booth was covered with Elation Cuepix panels, with a back wall display comprised of Elation ACL 360 Matrix panels. Sunken Garden was programmed by Bobby Grey.