SJ Lighting Chooses grandMA2 For Drai's And LiFE Nightclubs In Las Vegas
February 04, 2015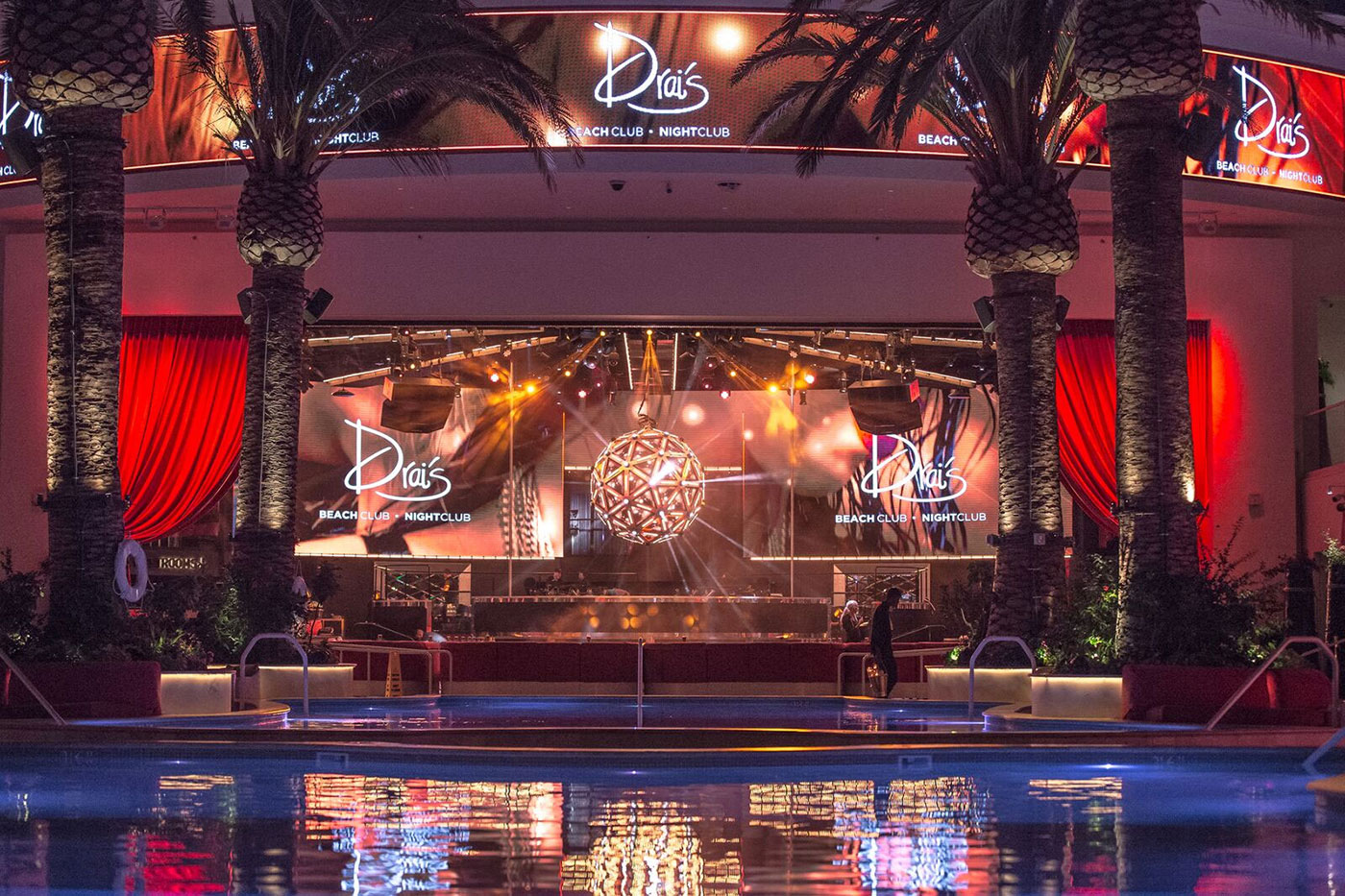 SJ Lighting, Inc., design consultants and lighting specialists based in Agoura Hills, California, has selected grandMA2 consoles to control lighting, video and effects for two of its latest nightclub projects: Drai's and LiFE, both on the Strip in Las Vegas. A.C.T Lighting, Inc. is the exclusive distributor of MA products in North America.
Created by nightlife impresario Victor Drai, Drai's Las Vegas Nighclub, Beach Club and After Hours is located in The Cromwell Boutique Hotel & Casino. Its unique rooftop venue, with multiple elevations and a towering ceiling, uses an array of modern technology to create multi-sensory experiences unlike any other club on the Vegas Strip.
The focal point of Drai's dance floor is a custom "chandelier" centerpiece fabricated from LED video, lighting and metal framing, which can be raised and lowered overhead. LED video, lighting and effects radiate from the luminous centerpiece like rays of light.
High-resolution video is displayed on the surface of soffit walls around the club and framed by LED lighting. Four full-color laser systems are built into the soffit along with strobe lights and audience blinders. The ceiling over the main room also features high-res video, LED lighting and a complement of theatrical lighting and effects. LED video comprises 3,244 square feet in Drai's.
"The design of the club is very complementary to the architecture - all the elements fit into the existing geometry as one seamless system," says Stephen Lieberman, with SJ Lighting.
The company selected a grandMA2 full-size console for Drai's especially for its advanced networking options. "That was a huge feature for us," Lieberman reports. "We are outputting MA-Net, Art-Net and KiNet simultaneously, and grandMA2 does this very efficiently. We have multiple control surfaces for video, lighting, LED effects and lasers: Everything is networked through the grandMA2."
He says that grandMA2 programming "is very fast for live operation" and its popularity in the industry means there are "a lot of available operators and programmers who are familiar with this platform." Lieberman, who programmed Drai's with Aron Altmark, has been an MA user for nearly 14 years. "I'm very comfortable on it. I have a show file that has everything needed as far as effects and presets."
LiFE at SLS Hotel & Casino has positioned itself as rebelling against the "one-dimensional norm that has come to define nightlife" to offer "an unbridled celebration of sight, sound, scene and form."
Lieberman agrees. "The blend of typical nightclub lighting with a very untraditional 'rock 'n roll' style stage design give the audience a very unique environment," he says.
High-res video covers the back walls of the club, framed by a custom moving lighting detail. Four full-color laser systems are built into the video treatment. The rear 20mm mesh LED video wall is semi-transparent and can fly in and out with several layered trusses of moving lights, strobes and audience blinders behind it.
Multiple trusses are also suspended over the dance floor with a full complement of theatrical lighting and effects. With upwards of 100 moving heads, the room shimmers with dynamic energy. Custom baffles are installed on the exterior of the truss to blend in with the ceiling. "The trusses' larger scale as they extend over the dance floor create a 'bowl' style designed to embrace the space," says Lieberman.
In addition, aerialists and performers fly on automated hoists and catwalks; moving video also encompasses the walls of the room. A total of 1,200 square feet of LED video is featured in the nightclub.
With many different technologies installed in the space - LED video, projection video, lighting, lasers, special effects - a grandMA2 full-size console was again chosen for its advanced networking options.
"The system is outputting MA-Net and Art-Net. Multiple operators come in to operate the system on any given night, so having the ability for each operator to have his own unique profile based off one main show file is a huge time saver," Lieberman explains. He programmed the grandMA2 with Aron Altmark.
Lieberman is pleased that SJ Lighting has participated in two stand out Vegas nightclubs. "We are so honored to have been part of Drai's, which is, to date, one of the most beautiful venues we've ever seen. It definitely needs to be experienced in person!"
"And LiFE is another example of how the SLS and SBE brands, some of the most influential hospitality providers in the world, are staying out in front of the curve and delivering exceptional nightlife experiences."
About A.C.T Lighting
A leading importer and distributor of lighting products, A.C.T Lighting, Inc. strives to identify future trends and cutting-edge products, and stock, sell and support their inventory. The company provides superior customer service and value for money to all of its clients.
For more information visit www.actlighting.com.