Electric Daisy Carnival 2012
August 04, 2012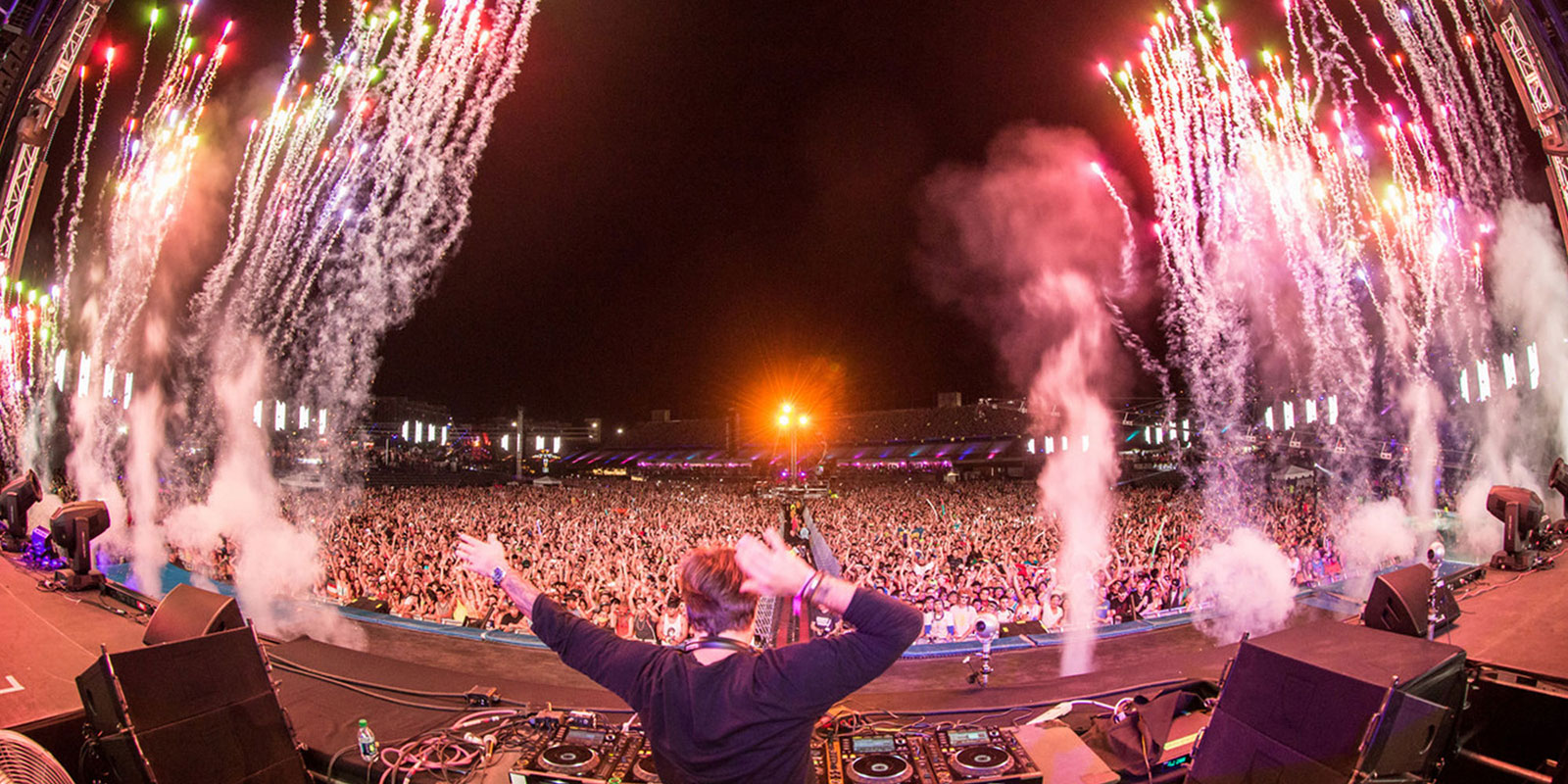 Insomniac Events' three-night, dusk-to-dawn Electric Daisy Carnival (EDC), drawing more than 300,000 to the Las Vegas Motor Speedway June 8-10, featured seven unique stages, live acts, more than 100 DJs, carnival rides, fire sculptures, large-scale artwork, nightly fireworks and laser displays and 500 costumed performers on stilts, funky bicycles and trampolines.
Lighting, staging and video companies designing and supporting visuals for the event included AG Light & Sound, Felix Lighting, Visions Lighting, Mountain Productions, Grand Prix Association of Long Beach (GPALB), Global Trend Productions, SJ Lighting and V-Squared Labs, among others, with fireworks from Grucci, pyro/cryo from Dynamic Effects and lasers from Lightwave International.
Electric Daisy Carnival 2012 - Las Vegas, NV. Photo by Drew ResslerStephen Lieberman of SJ Lighting, who lights between 50 and 70 electronic dance music (EDM) stages per year, once again took the design lead at EDC Vegas. A few weeks prior, he also lit the first EDC NY festival, staged at northern New Jersey's Meadowlands complex. That EDC incarnation, also a three-day event, drew some 45,000 revelers per night May 18-20.
Main Stage/Kinetic Field
In Las Vegas, each stage had its own immersive lighting and video design. Mountain Productions returned to assemble the event's main stage at Kinetic Field – among the largest, if not the largest – temporary staging structures ever built in North America.
Electric Daisy Carnival 2012 - Las Vegas, NV. Photo by Drew ResslerThe main stage was lit with gear from Clay Paky (including 20 of the new ShotLight Wash fixtures, 96 Sharpys, 50 Alpha Spot HPE 1500s, 20 Alpha Beam 1500s); Elation (47 Design LED 60 TRI-Strip fixtures), Elements/Krypton (40 KR10s, 60 KR25s), Martin (80 Atomic 3000 strobes, 80 MAC 101s, four MAC III Performance fixtures), Syncrolite (36 MX4000s) and conventional gear controlled via four grandMA consoles (2 Full, 2 Light, 4 NPUs) and an ETC Sensor 48-ch dimmer.
Some 12,000 square feet of intensely bright LED video lit up the massive structure's frame, interior ceiling and secondary displays arranged along the perimeter of the 55,000-capacity "dance field." Special effects included 28 flame cannons lining the roof, eight flame cannons on stage, 12 cryo jets and six confetti cannons and 23 lasers.
Cosmic Meadow, Circuit Grounds
Cosmic Meadow had an impressive assembly of lighting, video and 3,340 linear feet of 20.5-inch and 12-inch truss.
The gear list there included fixtures from Clay Paky (7 Sharpys), Martin (26 MAC 2000 Spots, 8 MAC 2000 Wash), Vari-Lite (27 VL3000s), Philips Color Kinetics (366 ColorBlast LEDs) and PixelRange (42 PixelLine 1044 LED battens), all controlled via a ChamSys MagicQ MQ100 Pro.
Electric Daisy Carnival 2012 - Las Vegas, NV. Photo by Drew ResslerAt Circuit Grounds, a Mecca for trance beats, a four-story-high truss structure arched over the crowd, letting LDs play with a sense of visual enclosure and negative space.
Another key focal point at Circuit Grounds was the combination of video (600 square feet of 15mm LED video; 2,000 square feet of 18mm video) with bright blasts from within by the moving light rig.
Electric Daisy Carnival 2012 - Las Vegas, NV. Photo by Drew ResslerThe Circuit Grounds setup included moving lights from Elation (24 Platinum Beam 5Rs, 165 Opti Tri 30s), Coemar (24 Infinity Spot XLs, 24 Infinity Wash XLs), Martin (128 MAC 101s, 56 Atomic 3000 strobes) and control gear from grandMA and ETC (one grandMA2 Full, one grandMA2 Light, 2 NPUs, one ETC Sensor 96ch dimmer, one ETC Sensor 48ch dimmer).
Specialty Stages
Electric Daisy Carnival 2012 - Las Vegas, NV. Photo by Drew ResslerAdditional stages catering to the different tastes of 2012 EDC Vegas revelers included the Q-dance Stage, supported by the Netherlands-based dance promoter of electronic dance music with a harder edge.
Q-dance has come up with a jumbo-sized head-and-shoulders figure of a warrior that, in Las Vegas, included a forbidding array of shiny skull elements and metal blades slicing skyward from its shoulders and helmet.
Neon Garden, supported by Visions Lighting and Global Trend Productions, featured an arched truss and center/left/right video displays.
Electric Daisy Carnival 2012 - Las Vegas, NV. Photo by Drew ResslerAt the Bass Pod stage, 3D-mapped projection ruled the night, with a translucent surface lit by VJs using EPIC Prime VJ software from V Squared Labs. The setup included four Christie 35K projectors and a Roland v1600 switcher.
EDC Las Vegas 2012 also expanded 2011's Discovery lounge into a stage of its own for up-and-comers, and returned with its Recharge Zone and cool lounges.
No Time for Napping
Opening three weeks after the inaugural EDC NY, Insomniac and Lieberman faced considerable challenges getting the sprawling EDC Vegas production lit. The lighting crew arrived only six days before the gates opened June 8. Much of the work had to be done at night. But if the temperatures were cooler, the winds also picked up, curtailing progress at 3 a.m. on the Wednesday before the festival opened.
While the risk of getting wet was lower in Las Vegas than in northern New Jersey, the high desert winds returned for Night Two of the event itself, forcing a delay, and eventual shut-down, of the scheduled performances on all stages. (Night Two tickets were honored on Night Three.)
Along with its ability to sell out well before opening day, the Electric Daisy Carnival is now accompanied by a music convention dubbed EDM Biz; it kicks off earlier in the week before the festival gets underway and offers producers, DJs and record labels a chance to meet for panel discussions and strategy sessions.